J.K. Rowling, The Ickabog, Hachette Children's Books, November 2020, 288pp., RRP $45.00 (hbk), ISBN 9781510202252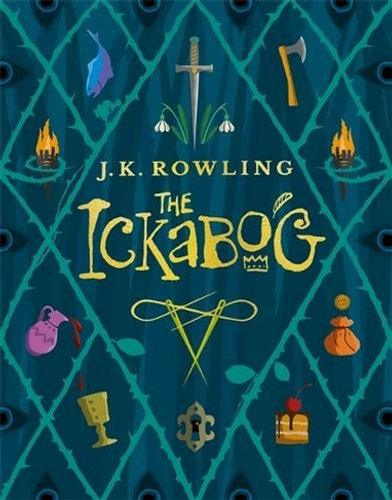 I couldn't contain my excitement when The Ickabog arrived at my doorstep. Its exquisite hardcover and the anticipation of reading the latest work for children by J.K. Rowling had me buzzing. This fairytale story begins in Cornucopia, a whimsical world where almost everyone is happy almost all of the time. King Fred is in charge and lives a good life – he doesn't have to bother himself with any serious thinking as his advisers do all that for him. Instead, he busies himself looking handsome in the finest clothes and eating the most delicious pastries. Though one day, he does decide he could do with an adventure, and when a peasant farmer claims that the mythical monster, the Ickabog, has eaten his dog, King Fred sees this as a splendid opportunity to live up to his name – Fred the Fearless. Plus, Fred knows that there couldn't really be anything dangerous out there, as the Ickabog couldn't possibly be real.
Of course, nothing goes to plan. Instead, a chain of events unfolds that will change the lives of every single person in Cornucopia.
The tale begins in a joyful and fanciful way before quickly morphing into a serious and at times, sombre story. There are heavy themes about the power of fear and the use of misinformation in order to maintain control. There is loss, grief, many deaths, and cruel old men and women.
And then there is the Ickabog – a creature that changes based on who tells the story. Is it real? Why were the myths created?
Daisy and Bert are children whose lives are irrevocably changed because of the mythical Ickabog and King Fred's flights of fancy. We follow Daisy and Bert as they navigate their way through despair, hardship, adventure, and retribution.
Rowling wrote this story more than a decade ago but shelved it in favour of other works. With the pandemic came the idea to release the story online, chapter by chapter, for children to enjoy. The illustrations in this published edition are those of competitions winners, aged 7 to 12, from countries around the world.
The story is not set in, nor meant to be a part of, Rowling's Wizarding World stories. It is a fairytale that is, as J.K. Rowing herself describes, best read aloud. The dark themes may deter some readers – my 10-year-old would struggle with the despair and the loss – others will relish in this battle between good and evil.
It is not a joy-filled story, but ultimately, it is enjoyable to read.
Reviewed by Fiona Miller-Stevens