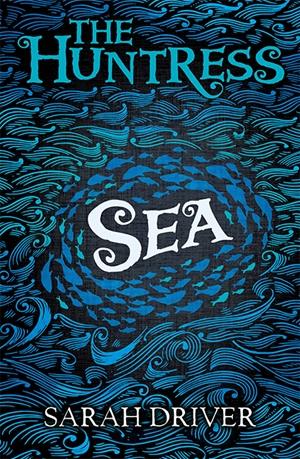 Sarah Driver,  The Huntress: Sea,  Hardie Grant Egmont,  1 June 2017,  352pp.,  $16.99 (pbk),  ISBN: 9781405284677
I always know when I pick up a book that has a map in the first few pages, it's going to be something that I'm quite likely to enjoy.  Sea has two such maps – one of the fictional land of Trianukka, and a cross-sectional map of The Huntress herself, the famed ship that gives her name to this series of books.
The story centres on Mouse, a young girl just turned 13, who has spent most of her life aboard The Huntress, a ship with a life of its own, captained by her fearless grandmother.  Mouse has lost her Ma, her Da is missing and her ship is being overrun by interlopers who arrogantly usurp Mouse's rightful inheritance.
Mouse must take up the ancient quest of finding the fabled Storm-Opals of Sea, Sky and Land – stones of power that make up the Storm-Opal Crown, which will allow the wearer to determine the fate of all Trianukka.
Sea is written as a first-person narrative, told by Mouse, and in a distinctive voice that is particular to those of her tribe and crew.  The book actually put me in mind of Lian Tanner's The Hidden series, with which it shares some similar themes and attributes.  The reader instantly warms to Mouse – we love her heart, her fire, her courage… she's full of the energy of her age – on the cusp of adulthood and eager to prove herself, but sometimes still afraid of leaving the safety of childhood behind.
Driver has created an amazing setting for her novels. This is a world where spiritualism and magic must fight the mechanising forces of "progress", where whalesong has unique powers to guide ships and unlock mysteries, where gifted people can converse with animals – even shapeshift – and even the unlikeliest of heroes can save a kingdom.
The central character is early-teen, and that seems to be the target audience here – the book is filled with action, adventure, peril, magic, monsters… all the things that a voracious teenaged reader loves to sink their teeth into.  I'm definitely going to seek out the subsequent books in the series, as I really want to know what happens in the rest of the story!
Reviewed by Christian Price