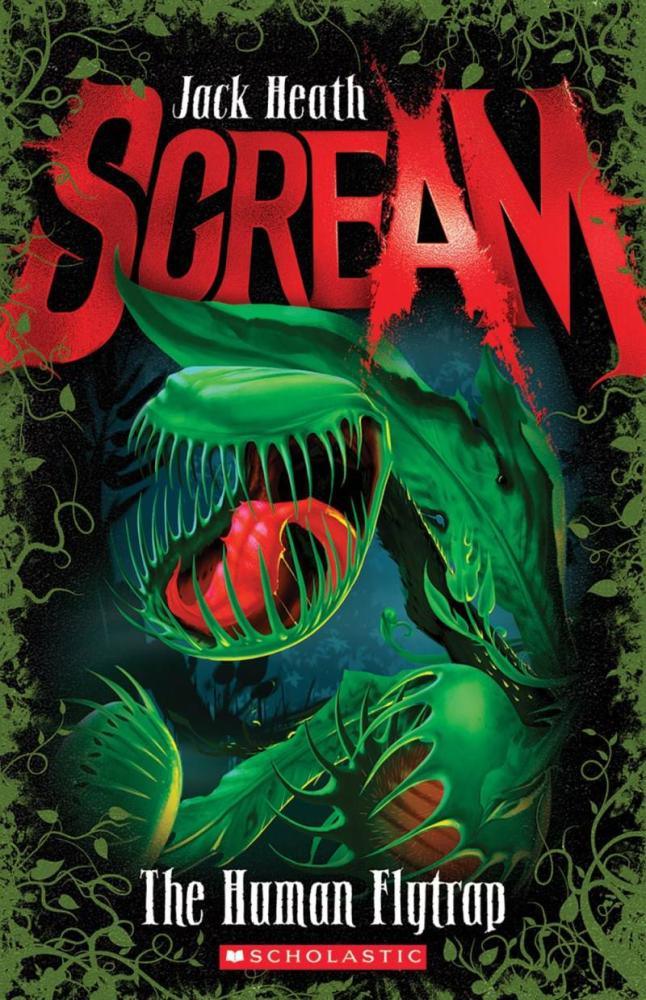 Jack Heath,  The Human Flytrap (Scream #1),  Scholastic,  1 May 2015,  144pp.,  $12.99 (pbk),  ISBN 9781760152086
Carnivorous plants are fascinating aren't they? When Dale's school experiment on the nutrients consumed by carnivorous plants surpasses the experiments of his peers, Josh and Dale know it is tied up with the many mysteries at Axe Falls. Josh and his family have recently moved house and their removal vehicle has disappeared without trace. Josh discovers crime scene tape in the bathroom with no known explanation and the neighbour appears to be a mad woman quite prepared to randomly yell "Get out!" to him. When Josh and his mates investigate the original location of the class plants they are in for a terrifying discovery!
Without reading a word (not even the title) this book caught me and begged me to read it! For as I pulled this book out of its envelope it fell open on the floor… screaming, "Aghhhhhh!" True! This book has been cleverly constructed with a padded front cover containing a built-in device that is activated when the cover is opened, like a novelty card, emitting a short and very loud scream! Other inviting physical details include the warning on the inside cover (Read at your own risk!) and the dark shadowy border around the text on each page which visually draws the reader into the story and darkens the edge of the closed pages of the book. These effects are altogether enticing. This book is different!
Readers of today are taught the finer details of deconstructing texts to analyse how and why an author/illustrator or publisher chooses the language, style and presentation they do, and this book will fit perfectly into any classroom or household discussion on that subject.  Readers may evaluate these effects and then decide how they could utilise such enhancements within their own literary pieces.
Heath has written a compelling story around an easy-to-imagine plot with likeable characters. His chapter breaks were frequently poised at the edge of a dramatic scene urging the reader onwards. However, I do believe that first impressions make a significant impact – and this book makes quite an impression! Fancy doing a unit of work on the genre of horror but not sure what is 'tame' enough reading material? This would be perfect! However, reluctant readers beware: you too will feel the draw of this well-packaged book with its screaming cover… but read it in bed at night, and you may just find yourself screaming and waking EVERYONE!
Reviewed by Emily Meldrum