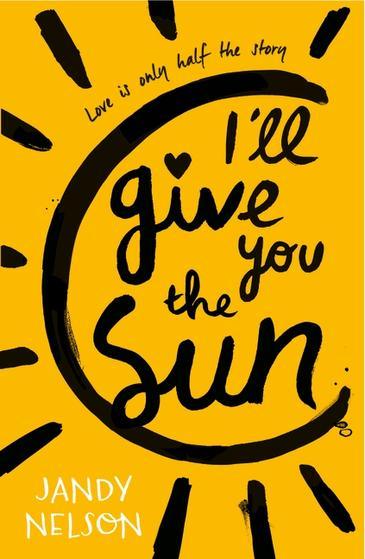 Jandy Nelson,  I'll Give You The Sun,  Walker,  1 June 2015,  432pp.,  $17.95 (pbk),  ISBN: 9781406326499
Noah and Jude are fraternal twins with strong artistic talents, who share high level intuitive links. When a car accident changes their family's lives for ever, a chasm opens between them and it seems that life can never be right again. While trying to find a new normal, this brother-and-sister pair apply to enrol at a selective art high school and despite the sadness in their lives, jealousy between them escalates. Devastating consequences occur with the selection of one twin and the gap between the pair seems irreparable. Further damage is inflicted to their familial bonds when it appears that they both fancy a new boy in town. First loves are powerful and revealing yet confusing – Nelson captures this awkwardness perfectly.
The story alternates between the twins as the reader hears the story from the differing viewpoints. With interesting effect, it is Noah's version that is always younger than his sister Jude's, contributing to the before and after tragedy perspectives. As with most siblings the love/hate relationship between them is strong – but fortunately so is forgiveness. The plot caught me by surprise with a great little twist at the end that I had not seen coming.  For me this brightened the book, and took my enjoyment to another high.
I loved the bright yellow cover with the matching edges of the pages, reflective of Jude's hair and of the book's title. The book had simple black and white illustrations throughout with an occasional black page thrown in to reflect the mood of the story. The effect was unusual and matched the emotions bleeding out.
Nelson writes with an intense voice that powerfully cuts through the words on the page and directly into the reader's psyche. Her words literally climb under your skin. There was more than a page or two that had me wriggling with discomfort and I felt torn between deciding if I didn't want to read any more and not being able to get back to the book fast enough. This feeling heightened each time the characters had an emotional high or low because the scenes were sensitive and realistic.
I'll Give You The Sun shares intimate and revealing scenes of first love (both homosexual and heterosexual in nature) which may prove awkward for some readers. A teenage audience is recommended.
Reviewed by Emily Meldrum