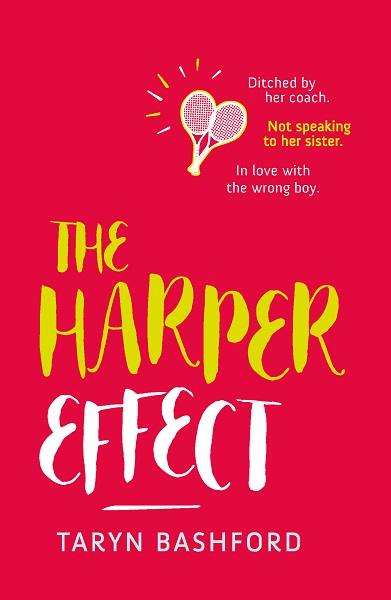 Taryn Bashford, The Harper Effect, Pan Macmillan Australia, 27 Dec 2017, 374pp., $18.99 (pbk), ISBN: 9781760552091
Tennis is Harper Hunter's life, there is no plan B, nothing else she would rather be doing. But when her coach leaves her because he sees no future for her in singles tournaments, it feels like her world is about to crash. Harper's father introduces her to Milo Stein, a German coach currently working with Colt Quinn, another young player. After watching Harper play, Milo begins training Harper and Colt for mixed doubles matches along with their own singles careers. He has a plan, involving a relentless training schedule and rules they must live by. However that is not all of Harper's worries taken care of. She is in love with childhood friend and neighbour Jacob, who has been dating Harper's sister Aria for the last two years. Aria and Harper's once close relationship is already strained because of Harper's long absences on the tennis circuit, and this does not help the situation as it unfolds. Jacob breaks his romantic relationship with Aria and the three friends try and rekindle their carefree childhood friendship, but when Jacob and Harper begin a relationship, trying to keep it from everyone, lies and betrayals begin. Harper is also trying to get to know mysterious Colt. He is not as privileged as Harper, struggling to support his tennis career while his widowed father is absent. The reasons for this absence are slowly revealed to Harper and the reader, and are not resolved quickly, or positively, a realistic aspect of the narrative.
This debut novel is the perfect Australian post-Christmas read with the tennis tournaments around the country. I enjoyed reading about Colt and Harper's progress in their careers and the tennis action, on and off-court, throughout the novel. The love interests Harper finds herself in are realistic, allowing readers to predict how things might end. Colt's story brings an added edge to the novel, providing both complications and resolutions. Jacob is not an innocent character at all and I questioned his intentions, motives and actions often during the narrative. There is strong characterisation throughout the narrative.
While adult role models are absent in many young adult novels, Bashford has created a world where they are consistently, but not always, present. Milo is an important influence on both Harper and Colt, and Harper's and Aria's parents are committed to both their daughters and their family. The absence of Jacob's parents is pivotal to both his role in the novel and his manner.
Recommended for teen readers.
Reviewed by Liz Derouet