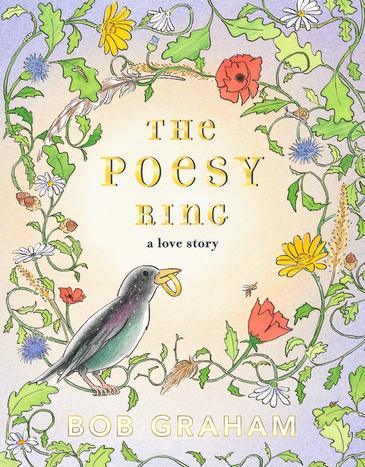 Bob Graham,The Poesy Ring, Walker Books Australia,  1 Nov 2017, 40pp., $24.99 (hbk), ISBN 9781406378276
I love the idea of destiny; of the power of fate that leads someone, or something, to a pre-determined event in time. Literary legend, Bob Graham, once again takes us on a life-pondering journey that celebrates the little unexplained mysteries of the world.
The Poesy Ring is a romantic story of the passage of a symbol of love. Sometimes, love comes with heartache; a gold ring is consequently discarded in Ireland, circa1830. Nestled deep in a meadow, the ring remains as seasons slip by and many moons pass overhead. Accompanied by many an animal, object and unaware passers-by, the ring winds up on a journey that bounds it to tenant a pawn shop in New York City, 1967. That is until the eternally timeless band, inscribed with "Love never dies",  reaches its destiny with Sonny and Jules.
This book is sublimely illustrated with the same depth, perspective and movement that Graham pens in his poetically contemplative language. He entices wonder about the everlasting and symbolic properties of physical and abstract things.
The Poesy Ring, for children from age five, emanates a warm, loving feeling of hope, faith and trusting in the subtle power of the universe. Literally a beautiful treasure to share with loved ones, near and far.
Reviewed by Romi Sharp