Hilary Rogers, The Girlhoods (Girltopia #3), Scribe, September 2019, 192 pp., RRP $24.99 (pbk), ISBN 9781742994604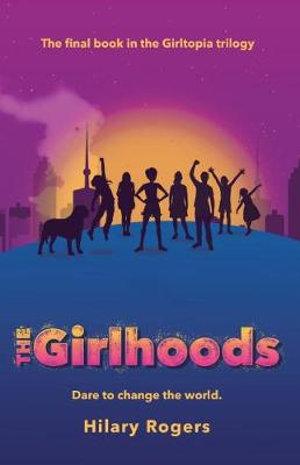 The final instalment in the Girltopia trilogy is a mature and engaging book. Publisher-turned-author Hilary Rogers has provided a satisfying ending to the semi-apocalyptic scenario established in Girltopia and Boss Girl. The virus affecting men and boys remains uncured, and Clara and her friends become involved with the "The Girlhoods", a rebel group who believe the virus was deliberately released into society and are determined to find out why.  
Clara's development is well-paced and believable, as she comes to terms with her parents' separation, determines how she should manage her social media fame, and is exposed to government corruption. Clara's self-confidence develops significantly, making her a more likeable character as she becomes distinctly her own person rather than being defined by her friendship with Arabella. The use of stereotypes such as boys being "annoying…mostly loud and gross" continues as in previous books, which the target audience may enjoy, but it means these books are unlikely to appeal to boys.
Although some elements continue to be far-fetched (for example, twelve-year-olds taking full responsibility for pre-school children for full days), topics such as puberty and social media are more smoothly incorporated than in previous books. Given the current Coronavirus situation, the series also provides scope for parents and teachers to discuss how viruses work and quarantine precautions. Advanced readers may also be interested in discussing the more complex issues of political subterfuge and emergency management.
Overall, The Girlhoods is the strongest instalment of the trilogy, and readers will enjoy both the plot and character development.
Reviewed by Jessica Dowling