Axie Oh, The Girl Who Fell Beneath the Sea, Hodder & Stoughton, February 2022, 336 pp., RRP $22.99 (pbk), ISBN 9781529391701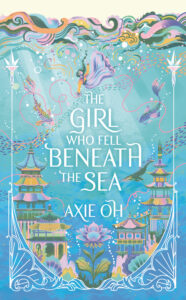 The Sea God – strongest of all the Gods in the Spirit Realm used to be a provider, but in recent generations, this has all changed. In hope to appease the Sea God and save the people's homeland from his ravaging storms, a strong notable bride is sacrificed to him each year. When Mina's older brother's beloved (Shim Cheong) is the next bride to be, Mina knows Joon won't sit tight. In order to save her brother from interfering and risking his life, Mina takes a leap into the sea and is swept away to the spirit world.
Mina (16) is a strong heroine in The Girl Who Fell Beneath the Sea. Her strong will and courageous actions throughout the novel reflect her love and loyalty towards her family – specifically Joon, and her strong sense of duty to her people and homeland. As a retelling of the Korean mythology – The Tale of Shim Cheong, this narrative is rich with culture and Asian representation. From start to finish, let the spirit world of souls, Dragons and Gods take readers on an quest involving family, romance and fate.
Axie Oh has released several works in the YA fantasy fiction genre and continues to deliver readers comfort in each adventure. Through this novel, Oh keeps true to her Asian roots and effortlessly captures the Asian family traditions especially family virtues – loyalty and duty. She depicts the struggles of headstrong Asian young adults coming of age, clearly led by their fiery hearts, whilst trying to remain filial to their elders and seek the truth of real world as they were raised. Through these representations and added elements of innocent romance, Oh tells her readers, "Don't chase fate…let fate chase you".  Oh should be commended on such a great read having completed the first draft of the novel during her Masters of Fine Arts Program. From cover to cover, she has written an empowering story through Mina's strong sense of justice and hope, adding warmth to readers, and motivating them to chase their own justice.
Growing up in an Asian household, I thoroughly enjoy retellings of Asian legends, so I specifically enjoyed this read. Oh has beautifully characterised the important representation of family and duty in which all Asian children grow up well versed. The originality in her work integrates modern themes such as feminism blending with traditional tales broadening readers' horizons, allowing them to fully immerse in the text. I loved the strength of Mina's character and how dedicated she is to her inner circle.  Mina is truly an inspiration heroine and YA fiction needs more characters like these.
This is a refreshing read and I would recommend this novel to anyone who enjoyed similar plots such as Spirited Away and Uprooted.
Reviewed by Anna Tran