Caroline O'Donoghue, The Gifts That Bind Us (All the Hidden Gifts, #2), Walker Books, February 2022, 416 pp., RRP $18.99 (pbk), ISBN 9781406393101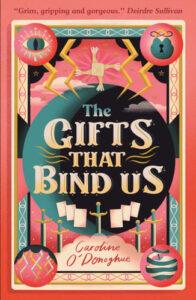 Things are not the same after last summer. Lily is back but different. Roe's band is starting to receive the right attention. Fiona is desperate to escape Kilberg. And Maeve? Well, she doesn't know where she fits in or what she'll do when she soon graduates school. Plus, all four of them are coming to terms with their new found powers. Instead of bringing the friends closer, exploring their powers drives a wedge between them. Strange things start happening at school and Maeve's powers almost disappear. On top of this, her increasingly strained relationship with Fiona and Lily makes Maeve desperate to keep her group together. She's desperate enough to seek help from those who would take her power forever.
The Gifts That Bind Us by Caroline O'Donoghue is the sequel to the highly regarded All Our Hidden Gifts. The books are a magical realism YA duology exploring contemporary issues against the backdrop of an Irish town with a strong religious history.
Like the first book, this story deals with contemporary themes in an accessible manner. Self-harm, gender representation and identity, transphobia, and the search for self, drive this coming of age supernatural story. The Gifts That Bind Us focuses on character development and the tumultuous friendship issues that are oh so relatable to the teenage years.
Well-written and enthralling, The Gifts That Bind Us is a tale of mysticism, friendships, and forgiveness.
Reviewed by Fiona Miller-Stevens