James, Candy, I Really Dig Pizza! (An Archie & Reddie Book, # 1), HarperCollins Publishers, December 2021, 80 pp., $16.99 (hbk), ISBN 9781460760802
James, Candy, We Will Find Your Hat! (An Archie & Reddie Book, # 2), HarperCollins Publishers, December 2021, 80 pp., $16.99 (hbk), ISBN 9781460760819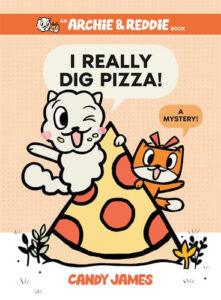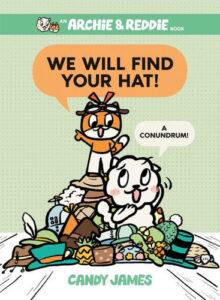 These are the first two books in a series created by husband and wife team Candy (illustrator) and James (author), inspired by their daughter's favourite soft toys and the adventures she shares with them.
They are a perfect transition from picture books to chapter books, using graphic novel techniques. Candy and James describe their books as early reader graphic novels that make you laugh, cry, snort and go "aww" all at the same time. The illustrations are simple and bold, and the stories are told using dialogue in speech bubbles. Producing these books in hardcover means they will withstand repeated handling and reading, so would be a perfect addition to library collections.
The titular Archie and Reddie are foxes (although I must say I think Archie looks more like a lamb to me). Book 1 involves Archie discovering his favourite pizza in the forest and hiding it, and Book 2 revolves around Archie losing his favourite hat. In both stories, the friends work together to solve the mystery/conundrum. I especially loved the use of homophones in We Will Find your Hat which I'm sure will make children laugh; it made me think of the famous Abbott and Costello skit, Who's on First. Breaking through the fourth wall and addressing the reader directly will make the child feel involved and invested in the stories.
In each book, when the puzzle has been resolved, and the pair are ready for action, Archie asks 'Are you ready, Reddie?' to which Reddie replies 'I'm always ready!' (more homophones!). The use of this repeated exchange creates continuity between the books, and I can just imagine children responding to Archie's question loud and clear!
Look What We Can Do (#3) is to be published in February 2022 and It Doesn't Scare Me (#4) in June.
Make sure you explore Candy James's webpage, as it's packed with fun activities and supporting resources:
Highly recommended from age 4 years and up.
Reviewed by Gaby Meares