Jeff Kinney, Big Shot (Diary of a Wimpy Kid #16), Penguin Random House, October 2021, 224 pp., RRP $14.99 (pbk), ISBN 9780143796114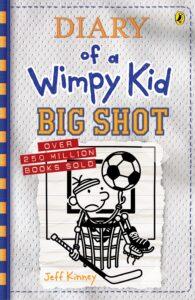 Is there anyone who doesn't know about the 'Diary of a Wimpy Kid' books? Wikipedia tells me it is the sixth bestselling book series of all time. Big Shot is number 16 in the series, and there are also other Wimpy World books, an animated TV series, and a number of movies. The central character of these is Greg Heffley, described as a 'loveable slacker'. The books are written as Greg's journal, with a stream-of-consciousness style, and move between his musings about all kinds of topics, and the events of his life. They are presented as lined school books with handwriting and hand drawn sketches. With one or two drawings to a page, the text is broken up to make for an easy reading experience. Obviously, a lot of people like the Wimpy Kid books. Unfortunately, after reading my first one with Big Shot, I'm not one of them.
Big Shot is an odd contradiction. It tackles a topic many can relate to – how school sports take all the fun out of sport and make it a nightmare for many kids. Early on Greg opines, somebody should write a book for the rest of us, that is, those not gifted at sports. Supposedly this book is just that, and certainly the central characters are not gifted at sports, but the focus is on the mechanics of sports throughout, so as a non-sporty reader I found parts of it tedious.
The first half of the book is largely about the school Field Day, and the intense competition that arises when students at Greg's school discover the winning home room will get a day off school. Greg decides to get in shape to improve his team's chance of winning, and misadventures follow when he goes to the gym with his father. There are some valuable messages when he learns about nutrition from his mother, including how advertising promotes poor food choices. The rock band he designs whose members are all vegetables is amusing, especially the illustration. The Field Day brings lots of controversy and drama, so Greg takes up basketball. His experiences on a team that loses every single game make up the second half of the book, whilst also taking the underdog trope of sports movies and turning it on its head.
The gender representation in the book is poor, with females mostly invisible or appearing as mothers until the final few chapters, when a team of girls beats the boys' team. Racial diversity is a little better. Despite its flaws, fans of the series will probably love it, as it is an easy read with funny pictures and lots of chaotic action.
Reviewed by Rachel Le Rossignol