Trent Jamieson (text) & Rovina Cai (illustrator), The Giant and the Sea, Lothian Children's Books, May 2020, 32 pp., RRP $26.99 (hbk), ISBN 9780734418876.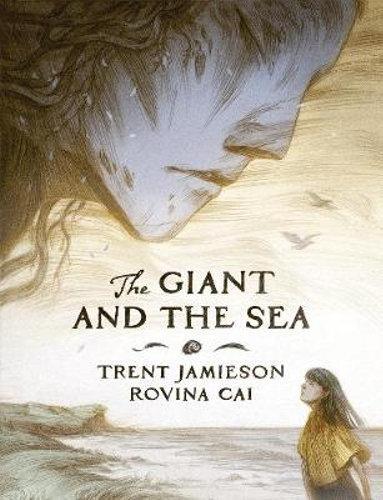 'The sea is rising because of your machine. That is all I know, and all I can tell you. It must be turned off.'
'We will not let you turn off our machine. How dare you suggest it?'
'I cannot make you turn off your machine. But the sea will, and then it will be too late. The sea is rising.' 
This is the tale of a giant who stands sentry by the sea. She warns a brave girl of the impending danger of the rising sea, and the girl tries to warn the people in the city, but they dismiss her concerns and banish the giant. Eventually the sea rises, and the only survivors are the believers the giant manages to save. They set about rebuilding, but the book ends with the giant warning another young child that the people are in danger again.  
This is a story about climate change. It feels like a fable about the young climate strikers who are desperately trying to make powerful people pay attention. It's a deft exploration of unsavoury parts of our modern culture and psyche. There is wilful ignorance and cognitive dissonance aplenty — first in the downright denial from the capitalists who prosper from the machine that will ultimately cause their downfall, then in the fear fuelled anger from the people of the city who form a mob and banish the giant in a scene reminiscent of online cancel culture. 
This book would be a terrific text to use with upper-primary and early secondary students. It's a lyrical read-aloud with plenty to discuss — from the female protagonists, to the text-world connections to real life young people who are advocating for change whilst older generations and businesses cling to the status quo. However, it's probably worth noting that if you are looking for a book about sustainability that is empowering and uplifting, this probably isn't it. The sceptics don't survive, and it's a circular narrative that ends with the cycle of climate change denial beginning all over again. The story also feels a bit like a portent of the current COVID crisis — with people struggling to accept that their normal has to be relinquished, and at the mercy of the inexorableness of nature. For that reason, it could perhaps be a bit triggering, so it might be one to use with caution for the time being. 

The Giant and the Sea is a beautiful, poignant picture book — but it has a stern, sombre and somewhat unforgiving dystopian edge. It is one for the collection, but perhaps not one for high rotation with young people who might be feeling swamped right now.

Reviewed by Liz Patterson