Philip Bunting, The Gentle Genius of Trees, Scholastic, April 2021, 32 pp, RRP $19.99 (hbk), ISBN 9781760975173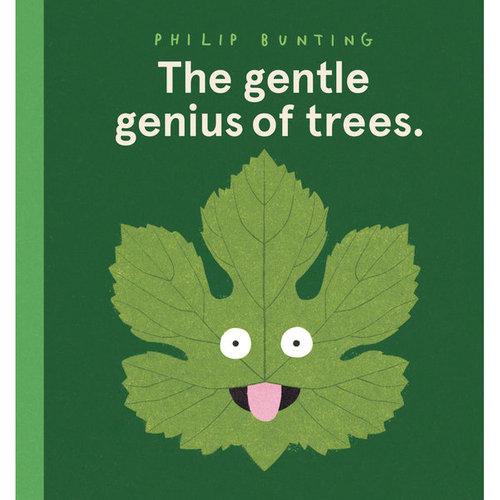 'You, me, the birds, the bees, the trees and the seas
– we're all a part of one beautifully balanced being –
a delicate system of life that exists on and with the Earth.'
Bunting's latest release, The Gentle Genius of Trees, is an informative, comical, and highly engaging creative non-fiction picture book that will delight young readers with both known and relatively unknown facts about trees and their role in our natural ecosystem.
Guided by Bunting's quirky art direction and his informative text, young readers will be able to easily absorb quite complex facts and fascinating insights into trees. We learn that trees chatter amongst one another, 'Can I borrow a cup of glucose? Any time, neighbours.' Trees protect each other from 'a good munching from a local deer…' and parent trees even protect their young as humans would, 'Thanks Mum'.
As with all his prior picture books, Bunting's signature gouache and acrylic illustrations are amusing and highly engaging. The simple yet highly impactful illustrations personify trees and leaves in all their shapes and sizes. From parent trees to baby trees to fungal friends, there are so many interesting and wide-eyed characters to meet and engage with in this picture book!
But the most genius message in the The Gentle Genius of Trees, is the surprising conclusion that trees share many similarities with humans and that there are many lessons we can all learn from our leafy friends. For just like trees, we need to 'hold on' when things are rough and 'branch out' to test ourselves. 
A highly recommended non-fiction read for primary school aged children. Each reading of The Gentle Genius of Trees will unearth new facts, pose new questions, and no doubt inspire further readings time and time again.
Reviewed by Lana Spasevski