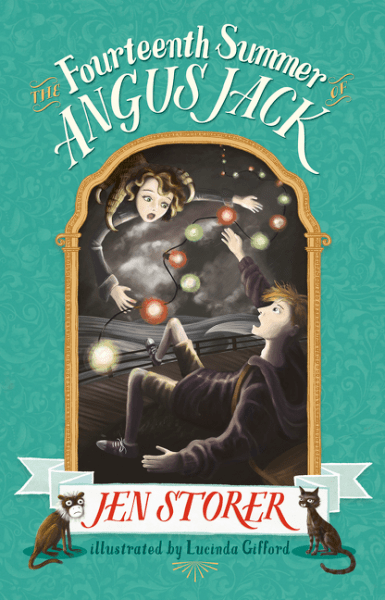 Jen Storer (text), Lucinda Gifford (illus.). The Fourteenth Summer of Angus Jack, ABC Books, 1 Sept 2015,  325pp.,  $16.99 (pbk), ISBN 97808733334436.
Author Jen Storer describes this book as a mishmash of the books, films and music she has loved. The plot revolves around Angus Jack and his sister Martha who are having trouble adjusting to their new seaside home, and feeling angry at being neglected by their widowed father. But when a second-hand bookshop opens next door, they are all pulled into a mysterious adventure. 
The storyline is interesting and imaginative, although the adventure Angus Jack and Martha find themselves embroiled in seemed a bit advanced for their young age. It sometimes nudged the borders of YA fiction. There were also times when it felt like the narrative was bogged down, with the same scenario repeatedly described without advancing the story. However, it gained traction and the pieces of the puzzle started falling into place from the middle of the book. I did enjoy the short chapters as they made it an easy book to pick up and read when long leisurely reading hours were sparse.
Lucinda Gifford's black and white illustrations helped snap some of the curiosities and adventures encountered into focus, and added to the overall mysterious 'dark' feeling of the book.
Reviewed by Jane Carstens