Ailsa Wild (text) and Aviva Reed (illustrator), Briony Barr and Dr Gregory Crocetti (creators) The forest in the tree: how fungi shape the earth, CSIRO Publishing in collaboration with Scale Free Network, September 2020, 50 pp., RRP $24.99 (hbk), ISBN 9781486313310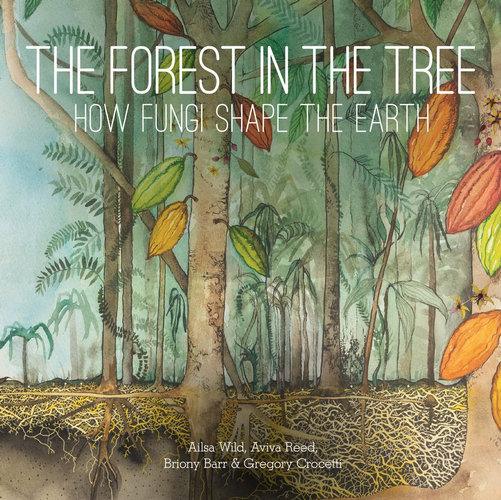 This is the first of the Small Friends Books series that I have seen, and it is amazing. The first half of the book is a picture book narrative telling the story of a fungal spore as it wakes from its dormant state and sends out tendrils to absorb nutrients and water. It enters into a symbiotic relationship with a cacao tree and the fungal threads branch out to form a 'forest' within the tree. Then the fungus combines with others to form a 'wood wide web' helping to sustain the trees during drought and enhance the soil. 
The second half of the book is more advanced and explains the science behind the story. Quotes from the text are expanded and the different organisms described with their proper scientific names, including information about Theobroma cacao, the cocoa tree. Using this South American tree and American spelling (eg 'sulfur') ensures a global readership.
The picture book illustrations are in forest and soil tones of greens and browns on creamy- toned backgrounds while the scientific pages are mainly white. The narrative illustrations also have small captions, diagrams of molecules and enlargements of details. The scientific pages also have electron microscope images, diagrams, and photos.
This series is created by the Scale Free Network art-science collaborative, which combines the talents of scientists, authors, and illustrators. They are also supported by the Australian Society of Microbiology and published by CSIRO Publishing. The multi-layered approach of a narrative for younger readers with more detailed information for the budding scientist works extremely well.
This book is attractive, innovative, and original, as well as being well-written, well-designed and beautifully illustrated.
Highly recommended.
Reviewed by Lynne Babbage