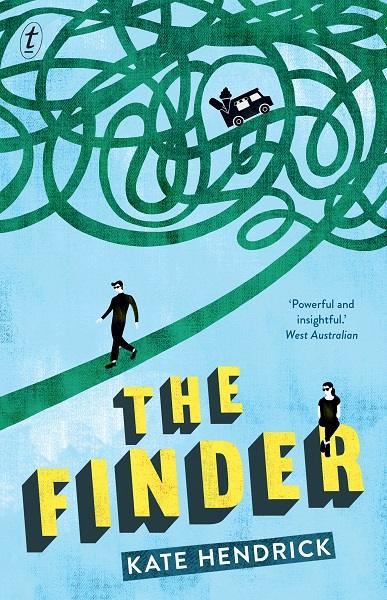 Kate Hendrick, The Finder, Text Publishing, 30 July 2018, 327pp., $19.99 (pbk), ISBN 9781925603811
Sixteen year old Lindsay is always looking, observing, taking in details that others miss. It is her acute powers of observation that lead her to discovering the whereabouts of a missing girl and she develops a reputation among her school friends as "The Finder." Her fame leads to one of those friends introducing her to Elias, an adopted child who is searching for his birth mother. Together they embark on a journey to discover his lost family, but Lindsay carries her own loss, the disappearance of her twin sister, Frankie, seven years earlier for which she feels responsible. As the two stories of missing family members entwine and a close friendship grows between Elias and Lindsay, the reader is gradually made aware of her sense of guilt, the destructive silence that shrouds her household and the emotional burdens that are carried by other members of her family.
Told in the first person, The Finder conveys the emotional turmoil of adolescence which has been compounded by family tragedy and deep-seated guilt. Lindsay struggles with all her relationships, particularly with her parents who hide the existence of their missing child from the younger children. Lindsay's sense of personal responsibility for Frankie makes her introverted and it is the extrovert, Elias, who brings her out of herself. This sometimes tense relationship provides the medium for an exploration of the nature of friendship and the catalyst at the close of the novel for Lindsay to start seriously looking for Frankie.
The Finder is an intense and emotional story that explores the themes of teenage relationships, guilt, family and friendship without being depressing or disheartening. It is recommended for readers in the 14 to 17 age range. The writing is strong with convincing dialogue and interesting, well developed characters; there is definitely an opportunity for a sequel as the reader is left wondering what Lindsay will discover when she sets out to solve the mystery of her missing twin.
Teaching Notes can be found on the Text Publishing website.
Reviewed by John Nolan
Read Kate Hendrick's article about writing The Finder