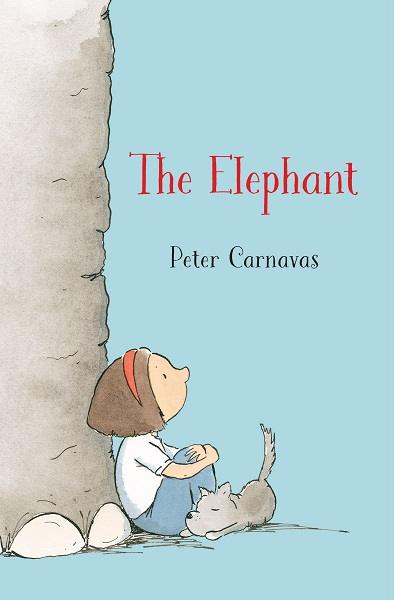 Peter Carnavas,  The Elephant,  University of Queensland Press, 3 July 2017,  180pp.,  $14.95 (pbk),  ISBN: 9780702259616
This charming story is outstanding for the delicacy, humour and good sense it employs in dealing with the difficult topic of depression in the family. It is the first full length novel written by Carnavas who has up to now written and illustrated picture books.
Olive's father has not been the same since her mother died. He doesn't do much anymore and is always accompanied by a large grey elephant that sits very close to him and takes up most of the space around him. Luckily Olive has her Grandad to look after her. When he comes to school wearing his purple back pack she knows something special is planned. Her best friend at school is Arthur, a boy interested in all sorts of animals and with a quirky sense of humour. Olive knows that she can tell him anything, anything at all.
When the school, in order to celebrate a hundred year anniversary, asks everyone to bring along something old and marvellous to share, Olive is in a quandary. She would like to bring her old bike that belonged to her mother but her Dad never seems to get around to fixing it.
Olive realizes that she will never get it fixed unless she gets rid of the elephant. She climbs the jacaranda in her backyard to take photos as she has decided that it is an old and glorious thing and maybe she can take photos of it to school instead. She falls out of the tree, is knocked unconscious and when she wakes up sees her Grandad, who is now accompanied by an old grey tortoise. So the depression is spreading in the family, despite everyone's best efforts to combat it.
Despite the seriousness of its main theme, this is a cheerful story with many light-hearted moments. The children bring all sorts of odd and mysterious things to the school to share including a typewriter, a record player, an old watch, an old suitcase or 'port' and Arthur brings an accordion. Olive, with some help, comes up with a plan to bring something meaningful to share at the school and to get rid of the grey in her family's life.  The happy ending is a heart-warming celebration of the power of love found in all shapes and sizes among family, friends and community.
Colour and light and dark has significance in this story. The elephant is grey and his shadow fills the room with darkness. Olive's grandad 'rules out the grey parts of my life and fills them with colour' (page 111).  The chapters are short, set in large type with lots of white space making the book an ideal first chapter book. It is copiously illustrated with line illustrations throughout.  Carnavas has added different little elephant chapter headings which, if you look carefully, will help you with the story. Each elephant silhouette is slightly different, and there are nearly 40 of them altogether.  The language is direct and simple. I think the biggest word in the book is 'trampoline'. It flows beautifully with the occasional poetic image that adds colour and emotional depth, e.g. 'raincloud eyes', 'scarecrow arms'.
There is much to enjoy and savour here: a rich theme, carefully realised characters, delicate line drawings, a satisfying story, gentle humour and sensitive careful language. The words and pictures and the attractive design of this book combine to create a little gem for young readers to enjoy and treasure.
Watch a book trailer and read what Peter Carnavas has to say about The Elephant on his website.
Recommended.
Reviewed by Mia Macrossan