Ross Montgomery, The Chime Seekers, Hachette Australia, November 2021, 384 pp., RRP $21.25 (pbk), ISBN 9781406391190 (Taken from Teams)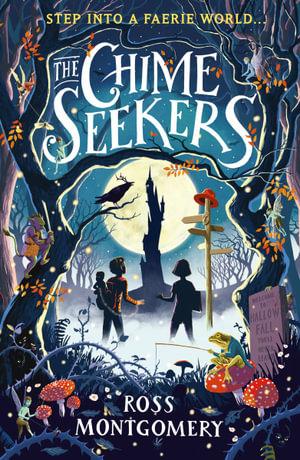 When an evil faerie steals Yanni's baby sister and swaps her for a Changeling, Yanni is swept into a dangerous race against time to get her back. For faeries delight in tricks and rescuing her won't be easy. With the help of his cousin Amy and the reluctant Changeling, Yanni must travel to goblin palaces and battle-swept oceans, discovering ancient treasures and secrets along the way. Yanni will need every drop of courage and even a few tricks of his own, if he's to outwit the faerie and save his sister…
The Chime-Seekers is a stand-alone contemporary fantasy novel by The Midnight Guardians' author Ross Montgomery, and is a wonderful blend of folklore, mythology, legend, and coming-of-age adventure.
The story centres around Yanni, a typical kid who, very typically, is less than impressed when his parents pull him out of his familiar life in the city and drag him to a dreary-looking town in the middle of nowhere. To top it all off, Yanni feels like his new baby sister Ari has disrupted his perfect life, and he wants more than anything for things to be like they were before. Many of us will remember what it was like to become an older sibling, and the dizzying mixture of emotions that it brings (not me – I was excited when my younger sister arrived and was only disappointed that she wasn't a giraffe). Montgomery fleshes out these experiences and emotions with honesty and realism, which makes the narrative that follows all the more dramatic and engaging.
Montgomery has crafted a magnificent fable here, one that I think will enchant and enthrall middle-grade readers and above. Some slightly older readers may notice homages to Jim Henson's Labyrinth, as well as echoes of The Chronicles of Narnia, and perhaps even a hint of Doctor Who. There is a dark undercurrent through the story that provides a fascinating edge without being too scary for children to read. Montgomery has an accomplished and evocative writing style, bringing his characters and settings to life with rich and exquisite language, imbuing each with life and depth. Montgomery is not afraid to address his audience as intelligent readers and this is a huge point in his favour – the emotional through-line of the story is real, we can feel it, and it feels very honest and true.
My only wish is that there might be more books set in this world, more adventures for Yanni and Amy, and perhaps even Ari!
Reviewed by Christian Price