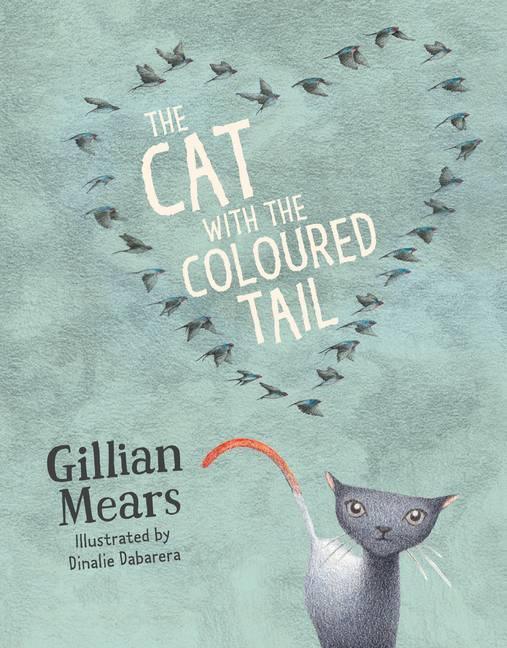 Gillian Mears (text), Dinalie Dabarera (illus), The Cat with the Coloured Tail, Walker Books Australia, 1 September 2015, 77pp., $19.95 (hbk) ISBN 9781922077400
I wasn't sure what to expect when I picked up this book, as the cover is quite dark – it didn't look like a typical children's book to me. (There's a watchful grey cat with a deep pink tail, set against a grey-green sky, with a flock of birds flying by in a heart shape.) As it turns out, the cover neatly reflects the story inside.
It's about a man and his cat who travel around in their ice-cream van, searching the landscape for heart shapes. Their route is determined by the cat's tail, which points them towards people in need of cheering up with a magical moon-cream (ice-cream).  The cat's tail changes colour to represent a happy memory for each person, inspiring just the right moon-cream to make for them.
Having two young daughters myself, we read a lot of books about princesses and fairies, so it was refreshing to share with them such a unique storyline. While they did enjoy the story, it's probably more suited to children a bit older than my seven-year-old twins. This is multi-award winning author Gillian Mears' first children's book, although she prefers to call it a "fable for all ages", according to an interview with her local newspaper, The Daily Examiner in New South Wales.
The story is broken into six chapters, so it's easy to read over a few sittings, and there are lovely illustrations on every double page spread. It is Sydney illustrator Dinalie Dabarera's first book, and I hope to see more from her. The pictures are mostly black and white, with pops of colour. While I expect children will be attracted to her drawings of the amazing moon-cream flavours, like firecracker and double-scoop stars, my favourite is her depiction of the elderly lady's lively step following her first lick of the "fragrant old-fashioned rose" pink moon-cream.
Classroom Ideas can be found on the Walker Books website.