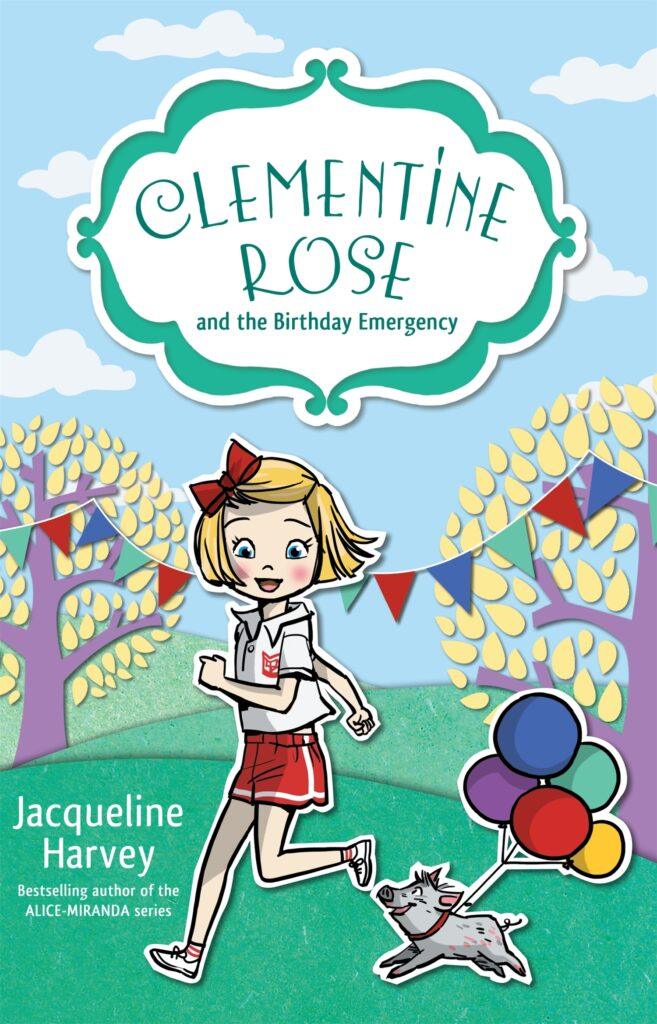 Jacqueline Harvey,  Clementine Rose and the Birthday Emergency Clementine Rose #10),  Random House Australia,  1 July 2015,  160pp.,  $12.99 (pbk),  ISBN 9780857985163
Clementine Rose is the daughter of Lady Appleby of Penberthy House. Together they live with her Aunt Violet, Digby the butler and Lavender, her pet teacup pig. Far from being prim and proper though, she is a typical five-year old, eagerly awaiting and planning her birthday party. The School Sports Carnival is coming up too, and Clementine hopes to be chosen for a special race. Then Lavender gets sick and must go to the vet. On the day of the big race, something happens which could mean Clementine's plans are ruined.
Clementine Rose is a delightful character with a sense of mischief, unaffected by wealth and status. Young readers will relate to the familiar themes of birthday parties, pets and school events and may have experience of sickness, vets and hospitals. Positive values of caring for one another in family, school and community situations make this story an uplifting read. The cast of characters at the back of the book is a clever inclusion to help the reader keep track of the many characters in the village of Penberthy Floss and their connection to each other. There is also a Clementine Rose tab on the author's site offering fun activities for readers. Clementine Rose and the Birthday Emergency is the eleventh book in the series.
Recommended for lower primary readers.
Teachers' Resources for the series can be found on the Random House website.
Reviewed by Sharon Seymour