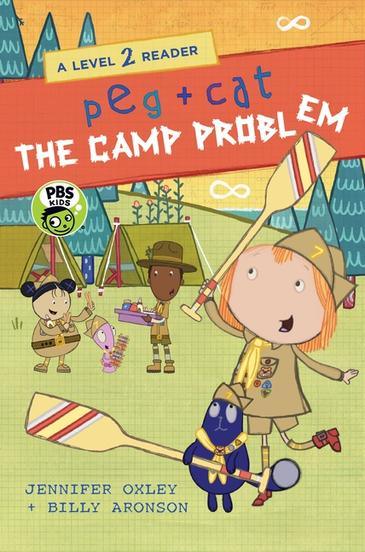 Jennifer Oxley and Billy Aronson,  The Camp Problem (Peg + Cat #3), Walker Books Australia, 1 March 2018,  48pp.,  $9.99 (pbk),  ISBN: 9780763699222
The Camp Problem is a cleverly constructed story which introduces maths concepts in a fun way. Peg + Cat is an Emmy award-winning TV series created by Jennifer Oxley and Bill Aronson and The Camp Problem is based on a television script by Meryl Schumacher. In this edition Peg and Cat go to Camp Niniwawa with Ninja Girl Aki and Peg's space creature friend Richard. They become part of the Gopher team and are soon challenged by the Raccoon team.
Winning might not be everything, according to Peg, but when the Raccoons challenge them to a competition, they soon get caught up in the spirit of it. The tension mounts as the raccoons beat the Gophers at every turn. Peg and Cat get points for sportsmanship but if they don't use their smarts, the Raccoons will surely reach the 100 point goal way before they do. That's where math comes in. Using maths patterns and counting, Peg and Cat soon find a way to close the gap.
The Camp Problem uses ingenious ways to solve maths problems while keeping readers entertained. An engaging chapter read. Recommended for readers aged 5-8.
Reviewed by Elizabeth Foster