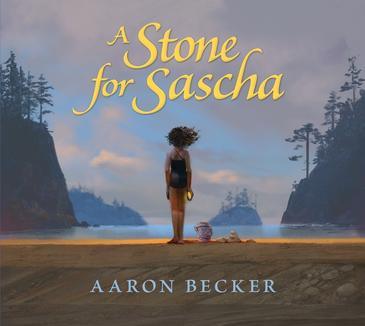 Aaron Becker, A Stone for Sascha, Candlewick Press/Walker Books Australia, 1 May 2018,  48pp.,  $27.99 (hbk), ISBN: 9780763665968
This wordless picture book is fascinating. A girl and her family bury their pet dog before leaving for a holiday. At the beach she finds a special stone that has travelled far over time and many places.
The illustrations, painted digitally on a tablet, use a variety of picture book codes to tell the story of the stone. The use of framing, colour and direction are exceptional. There is much to see in the pages, prompting thought and opportunities for discussion. As Aaron Becker explains in the author's note, his intention is "to encourage readers to discover their own path through the book", discovering their story through the pages. The absence of verbal text certainly allows this.
The end pages add an extra dimension of specialty, for they book end the visual narrative in map form, tracing the path of the stone found by the girl on San Juan Islands.
This book is exceptional, and it is hard to suggest a readership. It will do well in any school library and is a must for public libraries. A Stone for Sascha is a testament to the power of the picture book for a multitude of ages from varying backgrounds and cultures. Highly recommended.
Reviewed by Liz Derouet