Amy Sparkes, The bookshop at the back of beyond (The House at the edge of magic #3), Walker Books Australia, January 2023, 272 pp., RRP $19.40 (pbk), ISBN 9781529505665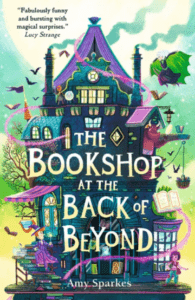 This third instalment following The house at the edge of magic and The tower at the end of time is just as adventurous, humourous and enchanting as its predecessors. Having cured the house of hiccups, Nine and her friends set off to the wayward Back of Beyond in search of Professor Dish. It just so happens that the erratic witch, Ophidia has trapped Dish in the basement of a rather remarkable shop and to save her, Nine and the wizard, Flabberghast will need to do everything in their power, even make an alliance with one powerful, clever witch.
The story begins right where Book 2 left off, the curse on the house has just been removed and we are quickly reintroduced to Nine, Flabberghast, Eric and Spoon. Amy Sparkes masterfully sets the scene without being repetitive for the returning reader but providing enough detail so a new reader to the series will not be lost in the new plot.
The plot itself is layered with the search for Professor Dish, Flabberghast being without magic and Nine keeping secrets from her friends in order to discover what her mother wanted her to know. But, I suppose everyone has secrets, do they not?
Beyond itself is a fantastically peculiar place and Amy Sparkes has created a world of living magic that is pure delight. Upon finding the Bookshop, magical chaos ensues, and readers will be swept up in the adventure with Nine and her companions.
This is a brilliantly written book that is full of delightful enchantments and characters that share love and friendship. I would recommend this story to be shared at story time, for a class read or just to be devoured by any child 8 and over.
Reviewed by Katie Mineeff