Sandra Severgnini, Meet Mim, EK Books, August 2023, 32 pp., RRP $24.99 (hbk), ISBN 9781992539557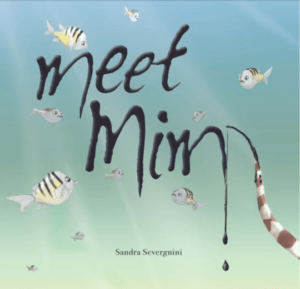 Meet Mim is an exciting new picture book recently released by Sandra Severgnini, the author and illustrator of the CBCA shortlisted Grub and illustrator of the award winning Tree Beings.
Meet Mim abounds with captivating illustrations as the reader embarks on an undersea journey to discover and learn about this incredible sea creature called Mim, a mimic octopus. Severgnini's interest in the natural world, and in this instance the ocean, is an educational experience including the detail provided in the illustrations. This exceptional mimic octopus uses its magical-like attributes to camouflage and deter unwanted attention from predators that are known to be poisonous, such as the spiked lionfish and the banded sea snake. A master of disguise the mimic octopus can change colour, shape, and skin texture in all kinds of amazing ways, and her favourite game is to fool everybody!
Mim's various adaptive creatures can be seen towards the end of the book and there is a fun fabulous facts about the mimic octopus which provides a wonderful platform for discussion and perhaps deeper investigation. Fascinated by the magic of the natural world Severgnini's word choice gives rise to rich visualisation and adds sensitivity and humour to her illustrations. This picture book promises to delight young and older readers alike.
I thoroughly enjoyed Meet Mim. It's recommended for children aged 4 – 8 years.
Teacher notes are available at the publisher's website.
Reviewed by Julie Deane