Stephen Herrick, How to Repaint a Life, UQP, September 2021, 280 pp., RRP $19.99 (pbk), ISBN 978070226315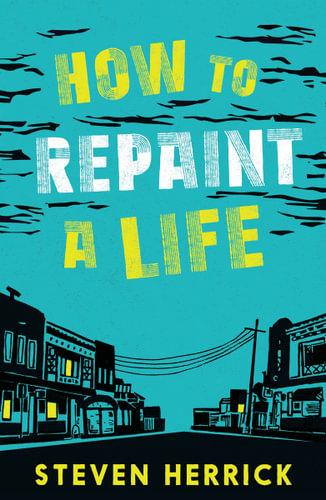 In How to Repaint a Life, Isaac is running from his old life; escaping from his abusive dad, the same way his mother did when he was 12. In the small town he escapes to, he builds himself a new life through the generosity and friendship of some of those he meets in the town. Joan who owns Joan's Café, teaches him how to make coffee like a barista and lets him work the coffee machine. Local teenager Sophie recognises in him a kindness and sensitivity that she hasn't found in the boys at her school and Sophie's dad, Gerry, befriends Isaac over a mutual love of coffee.
This is a story about empathy and friendship, about homelessness and acceptance and about domestic violence and making a new start.
How to Repaint a Life is the latest YA novel from Steven Herrick, who is widely recognised as the pioneer of the verse-novel genre for young adults. Herrick is the author of 26 books for children and young adults and his books have twice won the New South Wales Premier's Literary Awards and have been shortlisted for the Children's Book Council of Australia Book of the Year Awards on nine occasions.
Herrick describes How to Repaint a Life as a sister work (but also a stand-alone novel) to his novel The Simple Gift which has been popular over the years with high school students.
How to Repaint a Life is an excellent novel for classroom study. Both because of the topics that it explores and the style in which it is written. Each chapter is a complete entity with its own title and focus, almost like a prose version of a poem – reflecting Herrick's background in verse writing. This lends itself to reading in the classroom as a topic is presented in completeness, rather than an excerpt read in class being an incomplete piece as with many other novels. UQP clearly recognise the appropriateness of the title for the classroom with teacher's notes available.
Herrick's use of language is masterful, with figurative language appropriate to the story and to the age group. He describes a group of cyclists after their Sunday morning ride as 'a tribe of tap dancers invading the café', and conjures the atmosphere of the town with lines such as 'The street is parched and hazy, worn out from the heat.'
There is much for older readers to explore in this novel within a classroom setting. However, the novel may not hold as much appeal for independent readers other than those who appreciate the beauty of language. The completeness of each chapter which is such an advantage for teaching, means that in some instances the narrative tension of the story is weakened. This is exacerbated in the early section of the book by the alternating points of view from Sophie and Isaac who have not yet met and therefore are telling individual stories. This is less of an issue once they meet, and the narrative becomes a continuous thread.
That said, How to Repaint a Life, will almost certainly be a favourite for years to come with students in the classroom.
Highly Recommended

Reviewed by Caroline Arnoul