Delphine Davis (text) and Adele K. Thomas (illustrator), The Bake-Off (Mermaid Holidays #3), Puffin Books, September 2019, 128 pp., RRP $9.99 (pbk), ISBN 9780143796480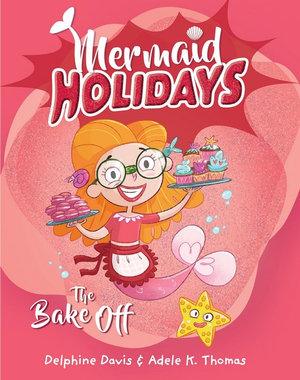 During the school holidays, Chloe mermaid usually helps her Grandmer in the family café, Turtleville Tearooms. But the Tearooms are in trouble. They need urgent repairs or will be closed down. Luckily Chloe and her mermaid friends come up with a 'mermazing' plan – a fundraiser bake-off! The underwater community are excited about this, except for conniving Barbara Barnacle who threatens to ruin the day.
Mermaid Holidays: The Bake-Off is a fun book for early independent readers. The language is simple, printed in an easy-to-read font, and each page has greyscale cartoon illustrations depicting scenes from the story. Some children will be drawn to the pink glittery cover and the touches of peach in the illustrations, text and border on each page. The plot is simple, but fairly fast-paced and engaging, and the story weaves in themes of friendship, teamwork, courage and compassion.
The text is extremely pun-heavy (e.g. "there in a jellyfish jiffy", "such a stick in the mudskipper") and packed full of alliteration. Reading it aloud, the constant sea references wore a little thin for me, and it sometimes felt a like a bit of a tongue twister. There also seems to be a lot of names and characters for such a short book. However, none of these issues stopped my 6-year-old from happily engaging with the story.
Mermaid Holidays: The Bake-Off is part of a 4-book series. They'd make a fun holiday read for early primary school-aged children.
Reviewed by Bec Blakeney