Gregory Mackay, The Adventures of Anders, Allen & Unwin, September 2019, 456 pp., RRP $19.99 (pbk), ISBN 9781760632076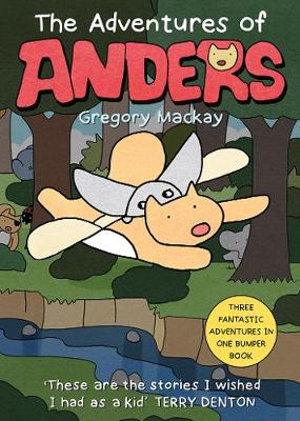 "Anders, an adventure is about to begin. If you follow me, you can be part of it."
Truer words were never spoken and so ensues a series of exciting adventures for Anders and his three best friends, Eden, Bernie and Veronica. From running into the frightening Green Grabber to being swept away on a jumping castle in Anders and the Comet; practicing the 'partial art', Whump and hitching a ride off flying pet beetles in Anders and the Volcano; and experimenting with aerobatics and discovering secret doors and hidden maps in Anders and the Castle, no reader will be disappointed. This collection will delight all adventure-loving children who are eager to see where their imagination will take them.
There are quite a few aspects of Gregory Mackay's comics that will appeal to the young reader and perhaps a parent enjoying this as a joint endeavor. One such aspect is Mackay's ability to capture the essence of a bygone era where children went in search of adventures away from their parents and built forts or cubby houses, found little pets they could collect and build habitats for, and put themselves in danger then get themselves out of it! Anders and his friends do all of this and more.
Mackay has also used the comic medium as a celebration of childish imagination. Anders and his friends can never simply walk from one place to the next, they hurtle through space on rocket ships and trudge through sandy desserts overcoming a myriad of obstacles in their path. And when they are not imagining these journeys, they are actually flying with the help of their pet beetles. What child has not wished to fly? Anders has Skip, Bernie has Lump, Eden has Melon and Veronica has Bounce. Altogether they make getting from one adventure to the next a child's dream come true.
But the Anders series does not shy away from interesting facts and detailed diagrams in spite of the imagination of its protagonists. Throughout the three exciting stories there are snippets of attention-grabbing details like the labeled diagrams of Dr Larsen's aircraft, the fact file on comets, and the explanation of lava tubes.
And finally, Mackay packs a punch with the relevant social lessons scattered throughout each story. Friendship and bullying, trust and separation anxiety are some themes touched on by these quirky, loveable characters.
I highly recommend The Adventures of Anders to children aged 7-11 years. It's a collection that will have children go in search of their own adventures.
Reviewed by Katie Mineeff