Rosie Jones (text) and Natalie Smillie (illustrator), The Amazing Edie Eckhart, Hachette Australia, August 2021, 272 pp., RRP $15.99 (pbk), ISBN 9781444958348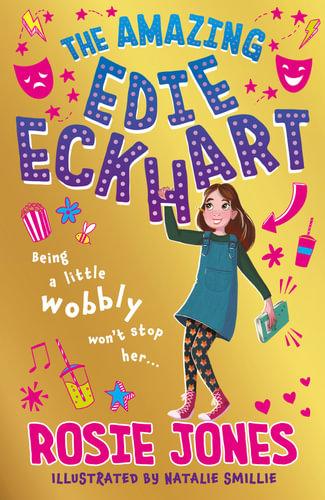 The amazing Edie Eckhart is the story of a typical 11-year-old, except for one thing – she has cerebral palsy. It is written by British comedian, Rosie Jones, who, like her character, has cerebral palsy too.
Edie's story is told through diary entries about her mishaps, hopes, disappointments, frustrations, the ups and downs of friendships and everyday events – all in a humorous, playful, and cheerful tone. This gives the reader insight into her optimistic disposition and courageous and accepting attitude to living with a disability.
Starting high school brings difficulties which are common with this life changing event, but for Edie there are added worries about being different due to her disability. Accidentally being cast as the lead in the school play makes school a much happier experience for Edie. But is her "Boyfriend Plan" too much to hope for? And will she be able to hold her nerves and perform well in the school play?
I found myself quite absorbed in this heart-warming story of resilience and perseverance. Not only is Edie a likable and believable character, she is also well supported by caring and wise adults and young people come to admire her positivity.
The story sensitively explores disability access issues as well as prejudice and stereotyping more generally. Through Edie's eyes, the reader learns about both the subtle and explicit discrimination that she experiences. And Edie notices that she too holds discriminatory attitudes on issues such as homosexuality.
Natalie Smillie's playful black and white drawings, which are scattered throughout the book, add to the upbeat tone of Edie's writing and support character development with detailed drawings.
I recommend this book for 9–12-year-olds who enjoy stories about friendships, growing up and tackling difficulties. It is particularly relatable for kids who have a disability or other significant challenges but provides important lessons for anyone.
Reviewed by Barbara Swartz