Elliot Perlman, The Adventures of Catvinkle, Random House Australia, October 2018, 240 pp., RRP $19.99 (pbk), ISBN 9780143786368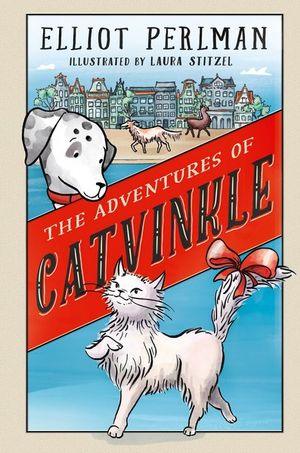 The adventures of Catvinkle is the first children's book written by Elliot Perlman who has been twice shortlisted for a Miles Franklin award. In this sweet story, Perlman evokes the charm of the streets of Amsterdam and creates two well defined characters – a haughty, pampered cat named Catvinkle and a polite, considerate, loving Dalmatian dog, named Ula, who is eager to please. When Catvinkle's owner, Mr Sabatini, first brings Ula home, Catvinkle feels slighted at being expected to share her home and comforts with a dog. But Catvinkle soon overcomes her dog prejudice and comes to trust Ula and take comfort from her company. 
Whilst on one level this is a sweet story of friendship and adventures, I loved how the story also has a deeper and more serious perspective with frequent references to thought-provoking themes – about prejudice, courage, peer pressure, the folly of vanity, being honourable and kind, accepting others and self for who we are. Just one example of Perlman's such commentary is irony in that characters behave in ways contrary to the labels they have been given – "brave, wise" Lobbus is cowardly and silly when threatened by "bad tempered" Grayston, who in turn behaves contrary to his reputation. Another example is the idea that prejudice is subjective – whilst the humans at a hotel threw Ula out because of her "wet smell", Catvinkle finds Ula's "musky" smell very pleasant. 
I could also go on for pages listing the many subtle humourous references in this story. Just to name a few – Catvinkle's arrogance is amusing and endearing.  Animal behaviours are likened to human practices e.g. friendship is shown by "sharing a bowl of water" and "sniffing tails" as a greeting.  There is also irony in animals being baffled by human behaviours. I also enjoyed the frequent play on words – Catvinkle says she can't be "purr – fect" – and Ula says – "You can't peck my manners.  They are impeccable." 
Perlman's expressive language and original metaphors add to the story's appeal – Ula's fear is described as "her heart was jumping about wildly inside her chest like freshly caught salmon in a net"
Interspersed black and white line drawings by Laura Stitzel enhance the story by depicting the animal characters with animated facial expressions and setting the scene with backdrops of the Amsterdam streetscape.
Whilst the superficial storyline will appeal to 6-8 year olds, I think that young readers would appreciate the book more if read and discussed with an adult who can guide them through the more sophisticated themes and the subtle humour.
Reviewed by Barbara Swartz