Tohby Riddle, Here Comes Stinkbug, Allen & Unwin, September 2018, 24 pp., RRP $24,99 (pbk), ISBN
9781760523527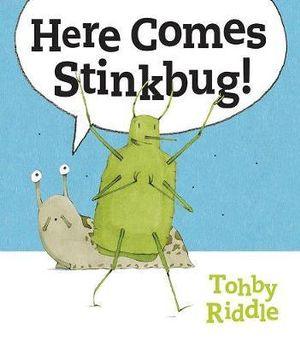 Here Comes Stinkbug! will appeal to kids because, let's face it, stinks are funny.

Stinkbug stinks, but doesn't seem to know it. His garden friends get fed up and ask him to do something about it. Stinkbug feels hurt but he wants to fit in, so he makes an effort to control his stench… until he needs to protect himself from a hungry spider.

Much of the humour in this book comes from the many eyes and many legs of its minibeast characters. There are elements of pantomime as Stinkbug struts around, oblivious to the reactions of other bugs in the garden. So much emotion is conveyed by the movement of their limbs and their buggy eyes. It would be a great mentor text for cartooning because the deceptively simple illustrations have obviously been carefully crafted, and the speech and thought bubbles enhance the story.

This book works best as a lighthearted shared-read. If you want to dig deeper, there are themes of identity, character strengths, and finding the balance between being true to yourself and not imposing on others. It could be used as a humorous companion text to picture books that focus more explicitly on social and emotional learning.

You could go there. But I wouldn't lean too heavily on the learning. I think it would ruin the fun. I'd rather just leave kids to enjoy, and let the moralising waft around.

Reviewed by Liz Patterson