Andy Griffiths (text) and Terry Denton (illustrator), The 143-Storey Treehouse, Pan Macmillan, October 2021, 304 pp., RRP $14.99 (pbk), ISBN 9781760786236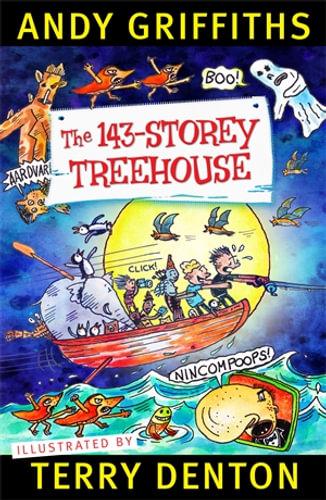 I sincerely regret not reading The Treehouse series by Andy Griffiths and illustrated by Terry Denton. I've seen it around often enough and skimmed reviews but didn't understand just how fantastic and fun this series is until I read The 143-Storey Treehouse, the most recent entry in the series.
I was pleasantly surprised to find I could jump right into the series, and not miss much from the previous books (unless you count the humour and illustrations!).
There's a bit of an introduction to the treehouse in the beginning of this book, but it doesn't feel like it. Straightaway, young readers will find this is a book where anything is possible, and nothing is out of bounds, and what a fantastic feeling it is to find a book that can let their imaginations take flight like this. There's plenty of ridiculous things to an adult in this book, but I think that's just it, kids are going to love that.
In this most recent instalment, Terry and Andy are off on a camping holiday, because well after adding 13 storeys to the house, Andy needs time out and a chance to work on their latest book.
Except, Terry forgot the tent, and the food, and they seem to have collected a crowd on their quiet holiday, including a reporter.
More, exciting fantastic adventures happen (of course), but I want to talk a little about the illustrations. I honestly didn't realise just how prominent a part of the novel the illustrations were, nor did I realise how wonderfully they fit together. Recently, my nephews started reading The Bad Guys series, and I know how much they are invested in the series and the artwork that I think they might feel the same about the illustrations in The Treehouse series. In fact, when I opened the book, I actually thought it would be a graphic novel like The Bad Guys.
I love that books like The Treehouse series and The Bad Guys series are getting kids into reading by acknowledging that not every young reader is going to enjoy pages filled with text, and that a graphic novel is as important a reading experience as anything else.  
I can't wait to introduce my nephews to this series!
Reviewed by Verushka Byrow