Christopher Cheng (text) and Lucia Masciullo (illustrator), The Imagineer, National Library of Australia, June 2021, 34 pp., RRP $24.99 (hbk), ISBN 9780642279682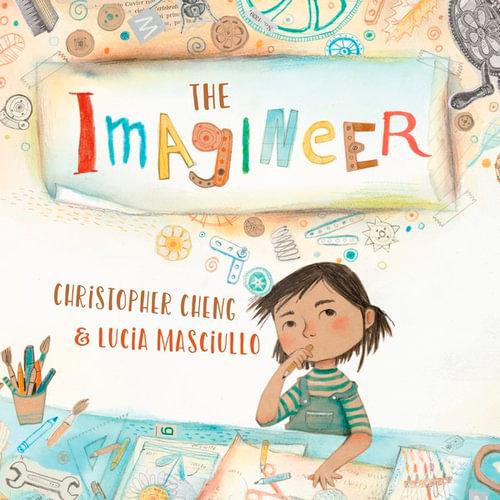 I knew I would fall in love with The Imagineer as soon as I removed the book from its wrapper. On the front cover is Penny, surrounded by all sorts of objects; a pondering expression on her face because Penny's imagination is always on alert for ideas, and her hands at the ready to build her inventions from whatever bits and pieces she can find. But Penny's apartment is small—miniscule, in fact—so when she visits Grandpa in his enormous house, Penny thinks her inventive mind might burst. Grandpa has rooms full of all sorts of stuff from long ago and Penny is curious about everything. Grandpa explains the workings of his curious collection, guiding Penny as she learns about the weird and wonderful gadgets. This is Penny's kind of wonderland. But what will she make? An invention that is out-of-this-world, of course.
Children's picture books are always a favourite of mine. The cleverness required to convey the message succinctly with limited words within the 34-page format is a proficiency. The Imagineer is a triumph in which Christopher Cheng has created something incredibly special and delightfully unique. The sumptuous vocabulary introduces all sorts of new and unusual words, not commonly used by a youngster, which adds a richness and joy to the reading. It makes us curious, just like Penny.
The relationship between Penny and her grandpa is beautifully captured in the quiet sharing of knowledge and the playfulness between them. These objects of Grandpa's—obsolete and out-of-fashion—are valued for the way they have fulfilled a need at a particular time and revered for the creativity of invention. Old things are interesting, not to pass by.
The delightful illustrations of Lucia Masciullo are gentle in style through her use of pastel shades and deliciously complex in detail. This book could be read numerous times and there would still be something new to discover on every page. It works as a picture book, a solo read and one to read to others—there is so much to see. I love the use of collaged images which cleverly reflects the theme of reusability and reinvention. The characters are as one might imagine—Penny with her curiosity and quirkiness; Grandpa with his patient kindness and pleasure in sharing time and knowledge with is granddaughter. It is in the way they interact, and it is in their faces.
The Imagineer is also an educational resource. It evokes curiosity and questioning; conversations about words, and objects, and times gone by so the inclusion of information about the various machines and objects belonging to Grandpa – things that we may know little about these days—is a welcome addition for adults who need to know answers immediately. It is also a good lesson in research and the List of Images at the back of the book is fascinating providing context and authorship for interest and even more discussion.
The Imagineer is a wonderful children's book and an asset to any library—home or school. When I give this book to my local community Pre-School, I will need to visit every now and then to read it to the children—for my pleasure as well as theirs.
Reviewed by Jennifer Mors