Grace Nolan (text) and Nancy Bevington (illustrator), Ten Bush Babies: One-to -Ten & Back Again (Book #2), Big Sky Publishing, April 2021, 32pp., RRP $14.99 (pbk), ISBN 9781922265623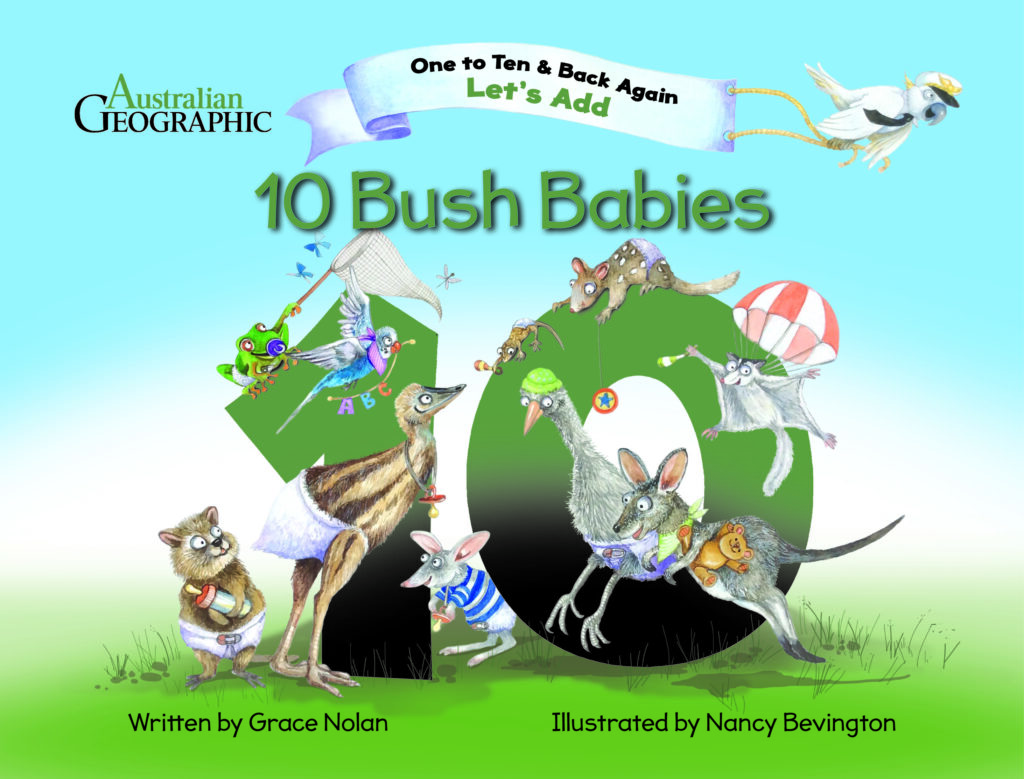 Grace Nolan has combined her experience as a teacher with her love of Australian wildlife to create a charming rhyming counting book that introduces numbers and addition to young children.
Bush babies gradually get together to have a race until there are ten all told. They include iconic Australian animals such as the emu, kangaroo, cassowary, bilby, brolga, quoll, and quokka.
Nancy Bevington has used soft colours, big eyes, and endearing expressions for all her animals. She has clothed them in nappies, bibs, and hats, as well as giving some of them dummies, and bottles. This looked a little odd to me, but no doubt children will enjoy recognising all the paraphernalia of babyhood.
Each double page spread is dedicated to a number clearly placed on the left of the verso page which also has that number of bush babies engaged in some activity. On the opposite page is the latest addition to the troop with the numerical values thus created written on the right-hand side of that page. This simplicity and clarity make for easy comprehension of the concepts which are stated in simple rhyme at the bottom of the page: Seven bush babies ready for a race…a baby quokka joined them then there were eight.
An appealing and useful book for home or school.
Reviewed by Mia Macrossan