Jacqueline Harvey, Take Down (Kensy and Max, #7), Penguin Australia, March 2021, 384 pp., RRP $16.99 (pbk), ISBN 9781760898533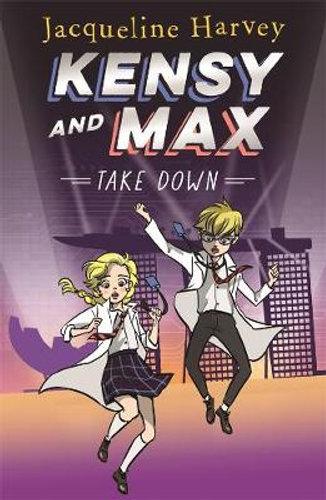 When Kensy and Max's Granny Cordelia becomes critically ill, there is more to worry about than her recovery. The situation then becomes sinister when it is discovered that Granny has been poisoned. As the head of Pharos – an intelligence organisation working on top secret missions – Granny has many enemies who would be pleased to see her out of the way.
This distressing situation takes over everything the twins, Kensy and Max can think about – which is troublesome as they are part of an elite team of students from their school who are travelling to Singapore to compete in the prestigious World STEM Championships. With news of Granny and then the disappearance of their secret agent butler Song, Kensy and Max desperately want to be involved in solving these mysteries. However, they are part of a team that hopes to be deemed the brightest young innovators in the world. Their loyalties are divided.
There are a lot of characters to keep track of in each of the Kensy and Max series of books which is possibly why Jacqueline Harvey provides the reader with a comprehensive list of identities and their respective roles within the first pages of her books. In Take Down, another set of characters is introduced so considerable concentration is required. For me, this made it overly complex – some character names were quite similar – and it seemed to be more about quirky personalities than plot focused. However, the main aspect of the Kensy and Max series, of whom I am certainly a fan, is the ability of the twins, with their friends and family, to resolve situations and problem solve through negotiation and consultation with each other. This is not to say they always agree with their parents or each other – Kensy and Max certainly have definite opinions – but the bond between them is foremost and the outcome is always solid.
Reviewed by Jennifer Mors