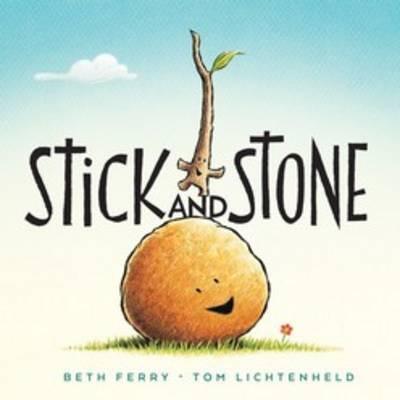 Beth Ferry (text),  Tom Lichtenheld (illus.),  Stick and Stone,  Koala Books,  7 April 2015,  48pp.,  $14.99 (pbk),  ISBN 9781742761671
Stick. Stone. Both alone. Alone is no fun. When Pinecone makes fun of Stone, Stick sticks up for Stone and a friendship is struck. Then they become parted by a storm. Stone searches tirelessly for his friend, finally rescuing him from a sticky situation. They both discover that friendship rocks!
The spare, rhyming text and comical illustrations are a perfect pairing in this tongue-in-cheek tale. Fun to read aloud, young readers will enjoy the cheeky puns and humour while identifying with the theme of friendship. The expressive illustrations are rendered in watercolour and coloured pencil and the endpapers show a stick falling from a tree and a stone being catapulted from a volcano, revealing their origins. Recommended for preschoolers.
A book trailer for Stick and Stone can be found on YouTube and an activity kit including blackline masters, can be found at bookweekonline.com.
Reviewed by Sharon Seymour