Jessica Walton and Aśka, Stars in their Eyes, Fremantle Press, September 2021, 216 pp., RRP $19.99 (pbk), ISBN 9781760990718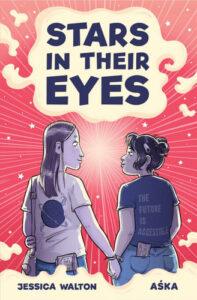 It's remarkable how fresh and relatable Stars In Their Eyes is in the Australian Young Adult literary landscape. An adorable meet-cute graphic novel written by Jessica Walton and Aśka, it is the perfect Australian offering to appeal to readers of the international best-selling series Heartstopper by Alice Oseman. A nerdy, pop-culture convention story, it actively weaves the lived experiences of being disabled by society and the minutiae throughout.
Identity, fandom, new experiences, friendship, and blossoming romance all drive the narrative along, with plenty of fun plays on the pop-culture references we know. The fact that this kind of fandom is born in the teen years and survives well into adulthood is celebrated by the way Masie agrees and disagrees with her mum's tastes. The cute, familial banter between each of the teens and their parents similarly reflects a happy home life and it's refreshing to witness some parent-child relationships where they actually get along.
Even though this is a book that is bound to make teen readers swoon and clutch it to their chests (something I've witnessed at the high school book club I run), it has many layers that can be unpacked in the classroom. The top of that list is its strong depiction of disabilities in our society and how people perceive disabilities.
The book is incredibly appealing, well supported by the illustrations which are full of life and movement expressive. They create a definite atmosphere and clearly convey the character's emotions. The illustrations capture the imagination of the characters who are swept up in sci-fi and fantasy stories and storytelling, while being firmly grounded in everyday experience.
That this graphic novel was adapted from a short story Jessica wrote which was included in the anthology Meet Me At The Intersection edited by Rebecca Lim and Ambelin Kwaymullina (2018) is another entry point for the classroom. Reading both short story and graphic novel allows for a compare and comparison of written forms, both by the same author, while being achievable because of their length.
I would highly recommend this title to readers of any age over 10 years but know that it is the teens who will connect with it most strongly.
Reviewed by Michael Earp (CBCA Older Readers Judge 2022)