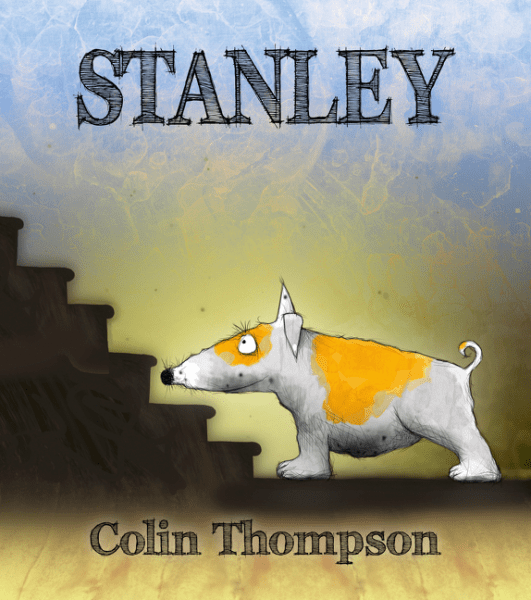 Colin Thompson, Stanley, ABC Books/HarperCollins, 1 March 2016, 32pp., $24.99 (hbk), ISBN 9780733332852
From award-winning author and illustrator (and certified dog lover) Colin Thompson comes the tale of a dog named Stanley who is about to experience a big change in his simple life. This tough-looking, little dog is actually the sensitive, sometimes lonely pet of a shy boy named Gerald and his single mom. Stanley loves his red ball and Gerald so life is nice, quiet and predictable, just the way he likes it. But when a chance encounter with a new dog brings Stanley and his family together with the new neighbours, life will never be the same.
Written for children aged 3 – 7, Stanley has lovely messages about family and feelings for youngsters, especially those that might be a bit shy or hesitant of change. The more complex situation may go over the heads of the youngest listeners, but will add depth and meaning to families going through similar changes.
With Tim Burton-esque illustrations, the cast of Stanley can look a bit creepy, but that's in line with one of the messages in the book — things may not always be as they appear. Then again, things may be exactly like they seem. Gerald, for example, appeared to be a shy, awkward kid, and was in fact just like that — an introverted boy who lived a quiet life. The illustrations work perfectly with the compelling text.
Much like the cover, the story of Stanley seems simple, but in fact has many layers. It's a tale that sticks with you long after you read it. And you'll never look at dogs the same way again.
A free downloadable teaching guide with extension activities is available on
Teacher's Hub
.
Reviewed by Stephanie Ward