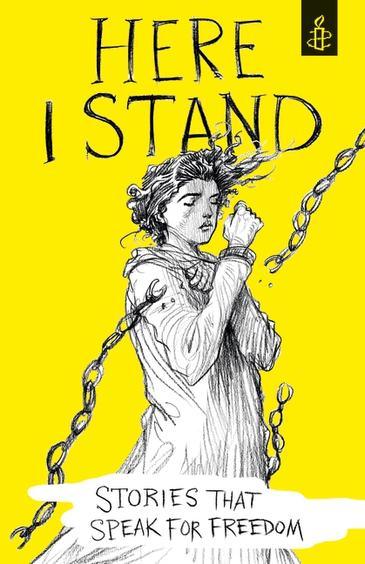 Amnesty International UK (Ed), Here I Stand: stories that speak for freedom, Walker Books Australia, 1 Nov 2016,  320pp.,  $22.99 (hbk),  ISBN: 9781406358384 
Formed in 1961, Amnesty International is the world's largest human rights organization; it gives voice to the voiceless and aims to protect people's rights to 'justice, fairness, freedom and truth.' As Nicky Parker, Amnesty International UK reminds us, our human rights must be constantly defended and it is this belief that underpins this wonderful collection of short stories and poems by twenty-five leading authors and illustrators.
Chris Riddell's powerful cover illustration sets the tone for this collection of beautifully written stories that will challenge and confront the reader to make a stand, reassess their beliefs or contribute in some way to a better, fairer more peaceful world.  Sexual abuse, gender identity and equality, freedom of speech, surveillance and race hatred are some of the human rights issues confronting young people today.  all are explored in Here I Stand.
A powerful collection of stories that will captivate the reader and add to classroom discussion. Highly recommended for readers 14+.
Reviewed by Mem Capp