Robert Lorenzon, Spike Surfs, Wild Dog, February 2022, 32 pp., RRP $19.99 (hbk), ISBN 9781742036229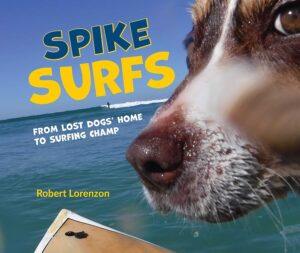 This is a sweet, simple story of an unwanted dog finding a loving home and an unexpected skill along the way.
Spike Surfs is written from the perspective of Spike the dog – a one year old, Kelpie cross Rhodesian Ridgeback who lives at a dog shelter. He is waiting patiently to be 'chosen', and then Rob comes along and decides to adopt him. Rob introduces Spike to the beach, and gradually to the water and surfing. Eventually they enter a surfing competition together.
Spike's simple and honest observations of what he sees and how he feels in different situations is a relatable way for children to understand and handle similar feelings. The book deals with feelings of hope, fear, excitement, and love as Spike navigates his new life with Rob.
Photos of Spike accompany the text and lend a lovely personal touch, it seems like readers are looking through someone's personal photo album. Spike's little head also appears intermittently throughout the pages with speech bubbles of further commentary that add a sweet touch.
Similar to the Channel 10 programme, 'The Doghouse' there is something so heart-warming when a human and dog connect and form a special bond. Young readers who are dog lovers and prefer non-fiction stories are sure to enjoy this happy doggy tale.
Reviewed by Julie Bertola