William Grill, Bandoola, The Great Elephant Rescue, Walker Books, February 2022, 88 pp., RRP $39.99 (hbk), ISBN 9781838740238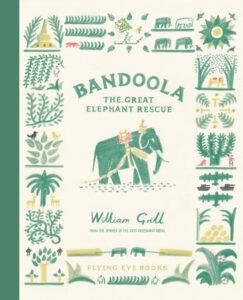 Myanmar is a country in in South-east Asia, a place famous for its vast swathes of forest and majestic elephants. Myanmar was invaded and colonised by the British in 1824, a rule that lasted until independence finally came in 1948. During this time, a British man named James Howard Williams and a male Indian elephant named Bandoola, met. What followed is an extraordinary tale of war, animal respect and exploitation, environmental conservation, friendship, adversity, and survival.
William Grill previously won the prestigious Kate Greenaway Medal for his non-fiction account of Ernest Shackleton's epic crossing of Antarctica in Shackleton's Journey. Here, he has created a non-fiction epic, part-informative, part biography, part history book that will delight and engage readers of all ages. There is the history of Myanmar and its role in WW2, information about elephants and their behaviours, and the tale itself of Bandoola and Williams.
Using a limited palette of greens, pinks and yellows, Grill brings to life the lush forests of Myanmar and the chunky, angular elephants within. He manages to create such detail with just a few lines, that I found myself poring over the drawings again and again. Pages ranges from grids of images telling stories or giving information, to large double page spreads capturing one single image – that of Williams finding the dead body of his elephant friend in the forest, for example. This deft use of scale and form is highly engaging.
The epilogue reminds us, the readers, that elephants around the world are still in need of help. It is an important message, that all creatures deserve to be treated with respect and care. This book could prompt important discussions within a home, library or classroom about conservation, history, colonialisation and the wider effects of war. I highly recommend it.
Reviewed by Madeleine Crofts