Jennifer Cossins, A-Z of Australian Animals, Hachette Australia, March 2022, 64 pp., RRP $18.99 (pbk), ISBN 9780734421326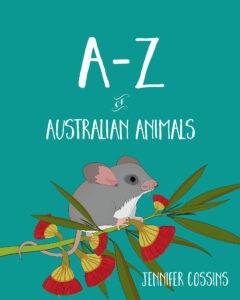 Originally published in hardback in 2018, A – Z of Australian Animals is now available in paperback. Featuring 26 Australian animals, one for each letter of the alphabet, the collection includes mammals, birds and one insect. The author even found an animal with a scientific name starting with X!
Jennifer Cossins' distinctive artwork on the right-hand side of each double-page spread is married with a page of informative text on the left. For each creature there is a common name, the scientific name, its size and facts about it, including an 'interesting fact' box at the bottom of each page. For instance, did you know that platypuses don't have stomachs?
In the introduction, the author/illustrator talks about the difficulty of choosing which animals to include and whether dingoes count as 'native'. A useful addition may have been a small map of Australia on each page showing the habitat of each species.
This book is not only good to use with little ones as an alphabet book but contains enough facts for primary-age children to find interesting and informative.
Reviewed by Lynne Babbage