Aleesah Darlison (text) and Nancy Bevington (illustrator), Space Kids, Sabotage, Big Sky Publishing, October 2020, 180 pp., RRP $12.50 (pbk), ISBN 9781922387172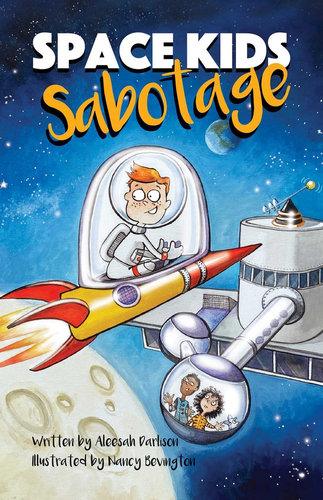 It is the year 2088. Eleven-year-old Nash Steele is getting ready to have a holiday on Misty Space Station and while he is pleased for the opportunity to see his dad who works there, he is very unsure about being a Space kid; he's quite happy on Earth, after all. Besides, Nash hasn't spent much time with his dad over the past four years so he's rather nervous that a whole two weeks with him will seem like forever.
After a surprisingly eventful journey on the shuttle, Nash and his dad arrive at Misty Space Station to be greeted by Captain Malik who immediately suggests Nash may like to explore the space station with his son, Raj. It's not an easy friendship between the two boys at first, mainly due to the uncharacteristic behaviour of Raj's robot dog Rex, but the vastness of the space station keeps Nash in a state of complete awe as the two boys tour around. When Raj and Nash enter "the biggest gymnasium" Nash has ever seen, they notice someone – or something – bouncing on the trampoline. It is Raj's friend, Katarina Constantine Milanovich, known as KC, a zany girl who always dresses in animal costumes. But Nash's time on the space station will not be all fun and games as he and his two new buddies become suspicious of some strange happenings.
Space Kids Sabotage brings together all the elements a junior fiction book requires. It's full of fun, good humour, suspense and adventure. But Space Kids Sabotage is so much more than an outer space adventure. This book is about relationships – with family and friends – and Darlison has skillfully handled the complexities of 'belonging' that Nash must navigate when he finds himself in unfamiliar surroundings and situations. Darlison involves the reader through the clever use of Nash's inner voice as he shares his insecurities – Nash's relationship (or lack of) with his dad and trying to fit in with the Space Kids whose lives are so different to his own. Robots create another dilemma altogether.
With time and the sibling-style banter of the kids, the trio gain respect for each other. The unhurried formation of their friendship, and the enhanced communication between the children and their parent(s) as the story progresses, creates a strong bond upon which they will all rely as they work together to resolve the perilous dangers threatening Misty Space Station and all who live within.
The illustrations by Nancy Bevington deserve recognition for the wonderful expressiveness of the characters – alive and robotic – and the way she has reflected the drama of the text through accenting the diagonal in her layout. The characters just jump off the page.
Space Kids Sabotage is definitely a page-turner so try to make the time to read it through from start to finish in one sitting. Once you start, I can assure you, it's hard to put down.
Reviewed by Jennifer Mors