Dhana Fox (text) and Anna Demchenko (illustrator), Ham, Larrikin House, February 2021, 32 pp., RRP $24.99, ISBN 9780648872221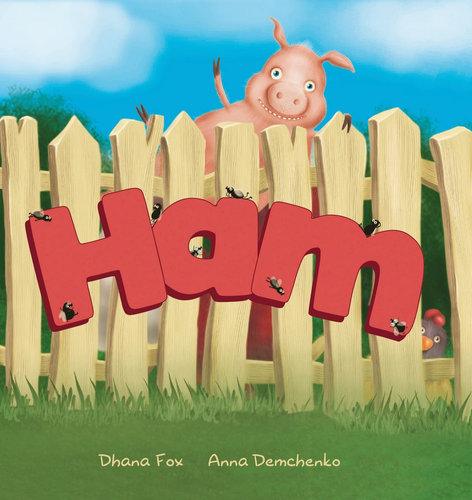 Ham is a picture book that makes an impact. It's brash and bold, the characters are larger than life (and also louder), and it features an outside dunny, complete with flies, with a certain aura about it. Most importantly, it is a funny story that littlies will love.
Ham is a pig, living an idyllic rural life with his friends Satay, Chops and Stew. I'll let you work out their identities. One day they see a truck labelled "Paddock to Plate" and reality hits them: We're not pets, we're all… edible!
Thus ensues a mighty fluster and panic, with Ham crying: I know I'll be taken I'm gorgeously plump, voluptuous, wobbly, just check out this rump. Pulling himself together, Ham determines they must make a plan that will …save their own bacon.
So they draw up plans, build devices, make some false starts, and finally crack a plan to make the vegetables more appealing than themselves. This is where the dunny comes in. The story continues on at a cracking pace, finally arriving at a suitable solution, at least from the point of view of Ham and his friends.
The illustrations are bold and brassy, featuring digitised art in strong colours, reminiscent of the palette seen in many a child's toy farm set. The animals have lots of personality, as does the farmer, when he finally gets a look in late in the book.
Apart from the humour and fun of this book, Ham lends itself to some vocabulary play and learning. The names of live animals and edible products, and words used in farming and gardening methods, could lead to discussions of ethical issues around animal rights and sustainable farming, for instance. Or even just a clarification of the difference between crop dusting and using manure.
Dhana Fox comes from a musical background, turning her talents to rhyming story telling fairly recently when her children were very young. She has several picture books published, although Ham was her first writing project.  Dhana's website has information about her other books and a fun video trailer for Ham. There is also an excellent interview with Dhana on the Tacos Podcast, about starting out as a children's author. Illustrator, Anna Demchenko, is based in the Ukraine. You can find examples of her beautiful illustrations on Instagram.
Reviewed by Marita Thomson