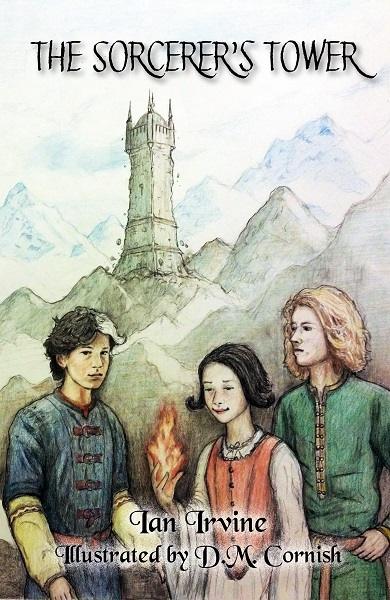 Ian Irvine (text),  D.M. Cornish (internal illus.), David Allan (cover illus.),  The Sorcerer's Tower (omnibus edition),  Second Look Publishing, 18 Sept 2017,  300pp.,  $19.99 (pbk),  ISBN: 9780994528032
The Sorcerer's Tower (omnibus edition) contains the four books in the Socerer's Tower Series—Thorn Castle, Giants Lair, Black Crypt and Wizardry Crag – which were first published almost ten years ago. Original illustrations by D.M. Cornish are distributed throughout the text.
Orphan Tamly is the only person in the town of Meadowhythe who can't do magic. His friend Kym, a feisty girl with a penchant for playing tricks, is brilliant at it and Mel, the blacksmith's son and Tamly's other good friend, has a talent for singing to metal. Each book in the series contains a short adventure where the three friends try to stop two evil sorcerers, Harshax and Krushax, from capturing Meadowhythe's magic and ruling the land. Added to this is an overarching mystery of why Tamly is without magic, a thread which runs over the four books.
The individual books and the chapters are short, and the stories fairly simple, making them appropriate for bedtime or to read in class. The black and white illustrations are regularly peppered throughout, nicely done and add another dimension to the book.
From the cover illustration, to the choice of language and the adventure itself, this series has an old-fashioned, fantasy/adventure feel and would suit both boys and girls aged 8 to 12.
Reviewed by Renee Mihulka