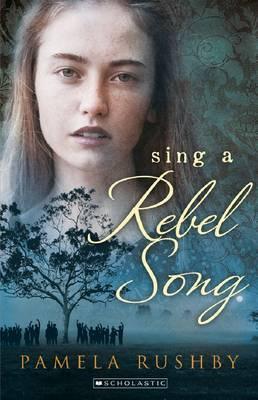 Pamela Rushby,  Sing a Rebel Song,  Omnibus/Scholastic Australia,  1 October 2015,  240pp.,  $16.99 (pbk),  ISBN 9781742991344
It is 1891 and twelve year old Maggie McAllister and her family find themselves caught up in an event which is to shape Australian history and see the birth of the trade union movement. Set in Queensland during the Shearers' Strike, rebel shearers challenge the reduction in working conditions and wages set by pastoralists. Shearers from other states descend on the sleepy township of Barcaldine in northern Queensland and the revolutionary, William Lane urges the shearers to stand firm. Starvation and the squatter's influence over court outcomes eventually puts an end to what many have claimed was the nearest Australia has come to a civil war.
As an aspiring reporter it has become Maggie's task to inform the Brisbane newspaper, The Worker, of daily events. The problem is that Maggie's close friends, Clara and James are from a powerful pastoral family so she finds herself carefully straddling two worlds.
Well researched and paced, Rushby has created a strong female protagonist in Maggie, placing her in a traditionally male domain and exploring the experience from a female perspective. An unexpected ending and perhaps the hint of a love story may leave the reader ruminating beyond the last page.
Although written for upper primary years, the subject matter may be of interest to lower secondary students. Suitable for ages 10+.
Reviewed by Mem Capp