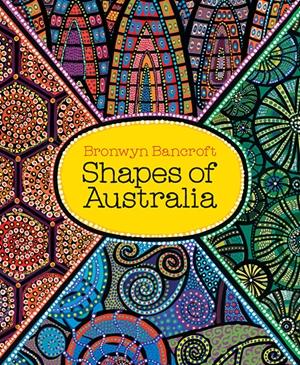 Bronwyn Bancroft, Shapes of Australia, Little Hare/Hardie Grant Egmont, 1 July 2017, 24pp., $24.99 (hbk), ISBN 9781760129286
Visually stunning. Literally magical. Bronwyn Bancroft masterfully combines her poetic melody of words with dancing scenic beauty in a spectacular topographical collection that represents our land. Leader in Indigenous illustration, Bancroft articulates the essence of splendour that is the Australian country with her rich and vibrant visual narrative.
Encircling green treetops sway together with geometric circles, oblong boulders endure the rush of the blue waters, a burnt orange sky meets the swish of grasslands, whilst bright yellow sun warms mounds of termite nests. Corals, mountains, honeycomb and mystical ocean floors. These amazing landscapes are all graced with enrapturing dot, line and pattern detail within an explosion of shape and colour.
Each piece in Shapes of Australia is worthy of being framed artwork on your wall. It is also a beautiful resource to share and influence fantastic art lessons, as well as studies in linguistics, geometry, and Australian and Indigenous cultures and environment. A must-have book for any age in all homes and schools. Highly recommended.
Reviewed by Romi Sharp