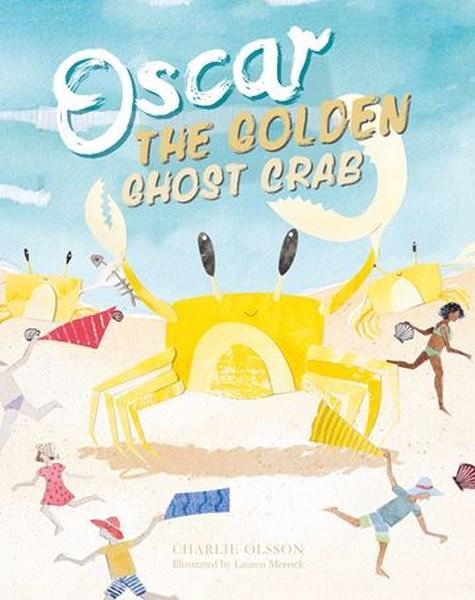 Charlie Olsson (text), Lauren Merrick (illus.), Oscar the Golden Ghost Crab, Little Steps, June 2017, 32pp, $24.95 (hbk), ISBN 9781925545296
Oscar the Golden Crab makes its mark on the sandy world with some highly amusing bottom-nipping, dog-pinching, ball-popping and toe-tweaking antics. Here is a fun legend-style tale on why people seldom visit the wild yet beautiful beach in Western Australia named Gnaraloo.
The bright yellow body armour and powerful pincers of these crabs are striking enough. Add to the mix the stunning combination of beach-toned watercolours and paper collage and cut outs, perfectly creating a playful, eccentric and almost sensory feel to the pages. The text is equally whimsical with its frisky language, particularly coming from the enraged, impish crab determined to defend his home.
When beachgoers begin to flood the beach with noise and litter the sand with rubbish, Oscar is diabolical. He is the leader of the colony and so it is his responsibility to end the "nonsensical nincompoopery". Much to their surprise and displeasure, the crowd are nipped and attacked, forced to vacate their place of fun and relaxation. So if you ever visit Gnaraloo, watch out!
With a final page of information about this species of crab, Oscar the Golden Ghost Crab is a humorous and insightful resource for preschoolers to have discussions around beach wildlife and the impact of human interference and negligence on the environment.
Reviewed by Romi Sharp