Terry Deary, Shakespeare Tales: Twelfth Night,  Bloomsbury/Allen & Unwin, August 2016, 64pp.,  $12.99 (pbk),  ISBN: 9781472917836
Terry Deary, Shakespeare Tales: Romeo and Juliet,  Bloomsbury/Allen & Unwin, August 2016, 64pp.,  $12.99 (pbk),  ISBN: 9781472917867
Terry Deary, best known for his Horrible Histories series, delivers Shakespeare to the young reader in a clever and appealing way by interweaving the Bard's tales with parallel stories. I was impressed by the thought and care the author put into presenting these plays in a format which makes them likely to appeal to even the most reluctant of readers.
In the first performance, ever, of Romeo and Juliet, 11-year-old Sam plays the role of Juliet. Meanwhile, outside the open air London theatre, the pestilence of the plague is spreading, throwing Sam's chance to perform in his first leading role into doubt. The text alternates between Sam's accounts of performing in the play and the story of the ill-fated Romeo and Juliet. William Shakespeare himself even makes an appearance on stage.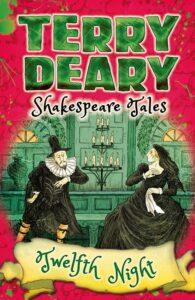 The comedic Twelfth Night is interspersed with another plot, a plan by the Earl of Essex to oust Elizabeth I from her throne. The aged and ailing Queen Elizabeth sits in her palace, watching a performance of the play, unaware of the scheming taking place around her. When Jane, Elizabeth's servant, notices something is up, she is inspired by the play's shenanigans to try and foil the planned ambush. Conniving with her friend, John, she dresses up as a boy and borrows some of Twelfth Night's other tricks and deceits to save her Queen.
Both Deary's offerings are written in easy, accessible language and perfect for chapter book readers. The play-within-a-play format dates back to Shakespeare himself, and Deary aptly takes advantage of it to introduce young readers to the bard. This collection of slim volumes also extends to Macbeth and A Midsummer Night's Dream.
It's worth mentioning that these two books could have been Highly Recommended, but unfortunately the proofreading lets them down. There are many spelling errors, missing words, and even accidentally repeated lines, especially in Romeo & Juliet.
Reviewed by Elizabeth Foster