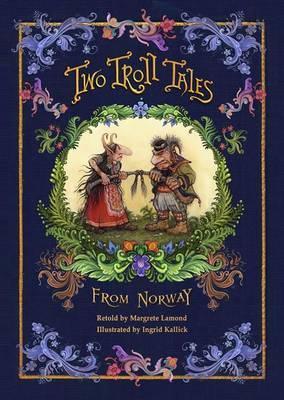 Margrete Lamond (text) Ingrid Kallick (illus.), Two Trolls From Norway, Christmas Press, 1 August 2106, unpaged, $19.99 (hbk), ISBN 9780994234056
Clearly trolls can't be trusted; they are ugly in appearance and in deeds as we discover in these engrossing tales from Norway. Margret Lamond skilfully retells the two magical tales in this charming picture book displaying her talent as a storyteller.  The tales have a  conversational tone which helps to capture the oral tradition from which they originated.
The illustrations by Ingrid Kallick convey the unusual quality of these stories and have a distinctly Scandinavian appearance in the decorative patterns and colours. Printed on quality gloss paper and using a clear font on a white background the book is attractive and engaging.
Children will enjoy the stories and delight in the double page spreads and pictures of the ugly trolls with big noses and hairy ears. In true fairytale style, the wickedness of the trolls and the gloomy forest add a touch of horror to these tales which will thrill 7 to 10 year olds.
Reviewed by Grace Nolan