Thomas Taylor, Shadowghast, Walker Books Australia, September 2021, 336 pp., RRP $18.99 (pbk), ISBN 9781406386301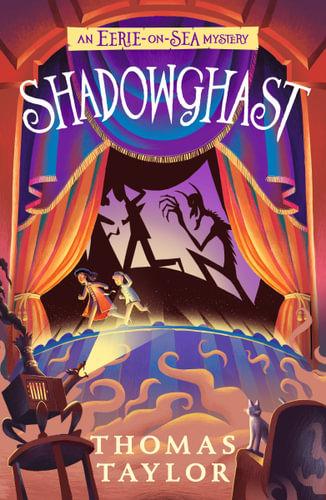 In a strange town, with a strange name and strange traditions, everything is about to take a turn for the worse when an unexpected visitor, a stage magician, turns up and claims to be a long lost relative of one Herbert Lemon (Herbie), the local orphan with an unusual past. The magician, Caliastra, has come to take part in a long-held tradition of the town of Eerie-on-Sea.
In place of Halloween the people of Eerie-on-Sea celebrate something called Ghastly Night. On this night, the town folk come together at the end of the pier. Huddling against the chill, arms filled with festival treats; toffee apples and sparklers and illuminated by manglewick candles they wait for a puppet show to commence.
But this is not just any old puppet show. Supposedly its story is one of truth. Legend has it that a devil horned man made up only of darkness is released on this night, to steals the shadows of others and once a person has had their shadow taken, they are forever under the control of the Shadowghast, the puppeteer of shadows.
When Calisastra puts on her own performance of this legend something does not seem right. Herbie and his friend Violet begin to wonder if there are dark forces at play. Then people start disappearing. Herbie and Violet must race to uncover the truth, delving deeper into the legend of their town, to save their friends, family and the people of Eerie-on-Sea.
Shadowghast is an excellent novel for children aged 9 through to 12 years who enjoy mystery and adventure and don't mind a bit of a scary tale. Readers will find Herbie and Violet to be very relatable characters with their free-spirited nature, imaginative minds, and trouble-making behaviors. Thomas Taylor's beautiful illustrations are sure to entice a younger audience, helping them to add a visual to his words.
Reviewed by India Boon